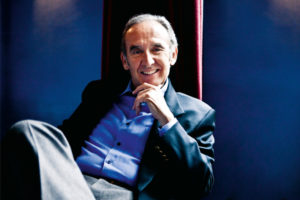 The Argentine wine pioneer has been honored for his work to bring Argentine wine to the front of the world stage.
Bodega Catena Zapata, Argentina's premier winery founded in 1902, is proud to announce that Dr. Nicolás Catena Zapata has been awarded the Marca País Prize by the Argentine Minister of Tourism on January 22nd at the Argentine Ambassador's Residence in Madrid. The ceremony took place during Madrid Fusion 2017, the most important international gastronomy congress in the world.
The Marca País Prize honors Argentinians who have had a major impact in elevating the country to the top ranks in their respective fields; criteria comes from success in Tourism, Culture, Investments, and International Trade. Previous recipients have been leaders in the arts, sports, tourism, and the business world. Dr. Catena Zapata had been recognized for his tireless efforts as a pioneer of Argentine wine, with a particular emphasis on uplifting Argentine Malbec to become among the most respected and sought-after wines in the world.
Dr. Catena Zapata: "I accept this award in the name of my family and on behalf of all of the hardworking and dedicated people that have worked in our vineyards throughout these decades of change, challenge, and research. I am also proud to accept it in the name of, Mendoza, Argentina, a wine growing region that is producing great wines for the world. Our focus has been on ensuring that our wines reflect the terroir of our beautiful country, encompassing its climate, geography and geology, as well as its cuisine."

F.l.t.r.: RAMON PUERTA (Argentina Ambassador in Spain), NICOLÁS CATENA ZAPATA, VALENTIN DIAZ GILLIGAN (General Undersecretary of the Presidency of the Nation), GUSTAVO SANTOS (Argentina Minister of Tourism)
Bodega Catena Zapata has set new sensory and quality standards for Argentine wine. The winery's approach to high altitude, cool climate grapegrowing has resulted in a range of top-tier wines that have earned international respect throughout the food world and the wine industry. Scientific research conducted by the Catena Institute of Wine has led to important viticultural advances in topics ranging from Malbec plant selection to investigating methods to counteract the effects of global warming. "We are concerned not only with present winemaking, but with the future of our region…with the next 100 years" says Laura Catena, 4th Generation Vintner.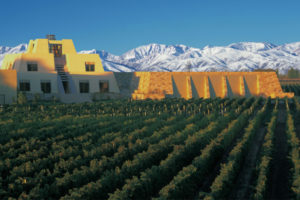 Bodega Catena Zapata, Mendoza (Argentina)
The Catena Zapata wines accompanied the renowned Argentine Chef Francis Mallmann and his "7 Fires Show" at noon on January 22nd. Mallmann has also been honored with a Marca País Prize for his culinary and cultural contributions to Argentina. The acclaimed chef's books and appearances at events have inspired cooks around the world to experience the pleasures and creativity of Argentina's Asado cuisine.
Madrid Fusion has become one of the most influential gastronomy events on the international food calendar. Argentina is being featured this year as the official guest country. In addition to Francis Mallmann, Argentine chefs Mauro Colagreco (Mirazur, Menton France), Tomás Kalika (Mishiguene, Buenos Aires), and German Martitegui (Tegui, Buenos Aires) will be participating  throughout Madrid Fusion.