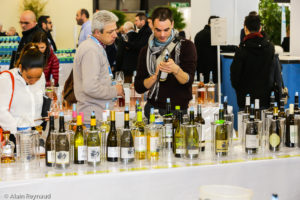 Visitors thronged to the second day of Vinisud 2017 and although business was brisk, the atmosphere was still relaxed.
It was also studious as many industry members chose to attend the masterclasses, conferences and presentations held throughout the day, keen to collect data and insight into Mediterranean wines. Their search will not have been in vain as the day kicked off with a presentation of the first wave of findings thrown up by the economic observatory on global markets for Mediterranean wines. Created on behalf of Vinisud by UK-based agency Wine Intelligence, the observatory revealed that exports of Mediterranean wines are in fine fettle, spearheaded by rosé and sparkling wines. "Mediterranean sparkling wines represent one in two bottles exported worldwide", pointed out WI France director Jean-Philippe Perrouty.
The surge in rosé wines, which shows no sign of slowing, can be correlated, at least partly, to that of the Millenials. A study commissioned by Vinisud and conducted by agency SoWine on consumer trends amongst Millenials in New York and London – presented by Marie Mascré – revealed that rosé is often one of their go-to wines. The research also showed that Mediterranean wines have an excellent reputation in both cities.
Their unique selling points are something that should definitely be promoted, according to Master of Wine Sarah Abbott: "Selling Mediterranean wine is about selling a way of life". Her viewpoint was echoed by Christy Canterbury MW in a live link-up with New York during a masterclass on marketing Mediterranean-style wines, again in New York and London. Canterbury advised companies to "invite New York sommeliers to the wine regions so that they can dive into the lifestyle".
Visits also help improve awareness of the vast array of Mediterranean wines and their ageability, both of which were underscored during a masterclass on Pic Saint Loup wines which was full to capacity. "By presenting the 2013 vintage, producers have shown that their wines are age-worthy", said Elisabeth Gabay MW, who also expressed amazement at how "such a small terroir and two or three grape varieties can produce such a big range of wines".
Not to mention the value for money aspect of Mediterranean wines which many buyers at the show claimed were particularly appealing. Greg Schlagdenhauffen from US import firm Highland Imports was one of them: "Languedoc wines, for example, offer excellent value for money and some real gems". And with a share of almost 30% of global wine production, Mediterranean wines not only have something at every price point, but also to suit every taste.
Visitor attendance totaled 7,423 on the first day of the show – 2,349 from outside France and 5,074 French visitors – and rose to 9,562 on the second day (6,446 French, 3,116 foreign). Over the first two days, total visitor numbers reached 16,985.