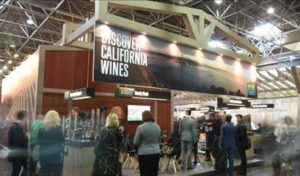 SAN FRANCISCO – U.S. wine exports, 90% from California, reached $1.62 billion in winery revenues in 2016, a new record.   Despite challenges from a strong dollar, winery revenues were up 1% from 2015.  Volume was 412.7 million liters or 45.9 million cases.
"California wine exports continue to reflect the trend toward premiumization with the dollar value of our wine sales outpacing volume shipments.  California wines are well positioned for this trend—our vintners are offering quality, value, diverse styles and environmental stewardship in their winemaking.  Combined with the state's iconic lifestyle, innovative cuisine and beautiful destinations, California wines continue to gain attention from consumers worldwide," said Robert P. (Bobby) Koch, Wine Institute President and CEO.
The top 10 export markets for California wines are: the European Union's 28-member countries, accounting for $685 million, followed by Canada, $431 million; Hong Kong, $99 million; Japan, $87 million; China, $82 million; Mexico, $24 million; South Korea, $23 million; Switzerland, $19 million; Singapore, $14 million; and Philippines, $13 million.
"California wine exports have grown 78% by value in the last decade despite heavily-subsidized foreign competitors and high tariffs.  Our global trading partners are increasingly acknowledging the high quality of wine from the Golden State and responding to our California Wines marketing efforts throughout the world," said Wine Institute Vice President International Marketing Linsey Gallagher.  Gallagher manages Wine Institute's California Wine Export Program, involving more than 170 wineries that export to 138 countries, and 15 representatives and offices in 25 countries across the globe.
Wine Institute's Regional Trade Directors in key export markets reported on 2016 exports:
Continental Europe
"As the dollar moves towards parity with the Euro, export volumes to Europe are down in most countries, mainly in the lower priced segment.  The good news is that the dollar value of California's exports to the EU countries (excluding the UK) is up 2.7% as the interest in premium California wines continues to be strong," said Paul Molleman, Wine Institute Trade Director for Continental Europe.
United Kingdom
"It's a fantastic result for California wine in the UK, continuing three years of accelerating growth.  There is a very clear trend towards premiumization with +18% value growth and rising volumes (+5%).  The conversation is increasingly about exceptional wine quality across both powerful and elegant styles.  Volume shipped exceeded 13 million 9-liter cases to the UK, making it the top volume export destination for Californian wines globally.  With the value of California exports to the UK now worth $337 million, the industry is on track to meet its target of $400 million in export sales by the end of the decade," said Wine Institute United Kingdom Trade Director Justin Knock.
Canada
"Canada remains a strong market for California wines and despite a slowdown in momentum, U.S. wines were still #1 in the table wine category in Canada in 2016.  Retail sales of U.S. wines are now at a record 6.5 million cases and $1.1 billion dollars with the strongest increases in the provinces of Ontario, New Brunswick, Manitoba and Saskatchewan.  We anticipate continued growth and are also hopeful that provincial governments will extend to California wineries equal access to retail distribution channels," said Rick Slomka, Wine Institute Trade Director for Canada.  "Canadian consumers have confidence in the quality and value offered by California wineries whose wines are successful in all price segments.  Recent price increases resulting from exchange rate fluctuation may lead to slower growth."
Japan
"U.S. bulk wine exports to Japan have been growing as major Japanese importers are now importing popular-priced California wine brands in bulk and then bottling in Japan.  This reduces the burdensome import duty to a limited extent and makes inventory control easier.  In 2016, we saw the last major generic California wine brand switch to local bottling," said Ken-ichi Hori, Wine Institute Japan Trade Director.  "Japanese importers of U.S. wines were disappointed to learn of the U.S. withdrawal from the Trans-Pacific Partnership.  They now hope the U.S. will establish a Free Trade Agreement with Japan as soon as possible to abolish the heavy import duty on U.S. wines, which will help the entire American wine category grow in Japan.  This is critical for the U.S. wine industry, since our competitors, Chile and Australia, already have free trade agreements with Japan and benefit from a duty advantage over U.S. wines."
China
"The significant growth in U.S. wine exports to China in 2016 is particularly important because it demonstrates a meaningful growth in higher value products.  A 47% increase in value in one year, coupled with an 11% increase in volume, speaks to the inherent strength in consumer acceptance of California wines in China, despite the rising value of the U.S. dollar versus the Chinese RMB currency throughout the year.  Additionally, according to research firm Wine Intelligence, the total number of imported wine consumers in China increased by 26% over the last two years.  These concurrent developments signal an increasing healthy market in China and Chinese consumers' burgeoning interest in California wines," said Christopher Beros, Wine Institute Trade Director for China and Pacific Rim.