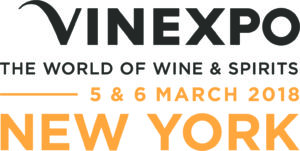 Bordeaux, March 14th 2017 – Vinexpo announces the launch of Vinexpo New York, with the inaugural show to be held on 5 and 6 March 2018. Following success in Europe and Asia, Vinexpo now opens the doors to the US market – the world's leading wine consumer.
In a country where wine and spirits sales are seeing constant growth, Vinexpo gives exhibitors a chance to meet the major players in the US market, with a two-day format and affordable rates starting from just $5,000.
Vinexpo is now the only independent international brand exclusively working in the wine and spirits sectors to cover the three continents with the highest consumption rates. Over its 30 years of B2B experience, Vinexpo has gained an in-depth understanding of the markets and forged good relationships with key insiders in global sales.
Vinexpo New York reflects a new drive to capitalise on the Vinexpo Group's expertise and skills. Having carried out focused analysis of clients' needs and expectations – both producers and buyers – the Group identified which partnerships are crucial to providing an attractive offer tailored to the American market.
Guillaume Deglise, Vinexpo's CEO, explains: "We were clear that we wanted to be a springboard for our clients to enter the buoyant US market, but we wouldn't do it until we were sure of providing an effective platform that guarantees success. Now we're ready!"
Vinexpo New York will be an annual event organised jointly with American firm Diversified Communications, a leading event manager in the US.
"The Vinexpo brand is attractive to the many American buyers who already come to Bordeaux," says Deglise, "so we know the main US importers, distributors and retailers will attend. We're also setting our sights well beyond the East Coast, since we're targeting the states that, between them, account for 80% of wine imports by volume."
The US currently imports 1.1 billion bottles of wine per annum, with the IWSR study forecasting 6.9% growth by 2020. This market is also driving a worldwide increase in imported spirits, buying almost 1.2 billion bottles a year with a very strong bias towards all categories of premium spirits.
As a pivotal point for wine and spirit imports to the US, New York offers a gateway to this compelling market, as well as being a nerve centre that everyone can easily reach. The inaugural Vinexpo New York show will be held on 5 to 6 March 2018, at the Javits Convention Center in the heart of Manhattan.
About Vinexpo
Vinexpo was established in 1981 to organise wine and spirits events for the trade and act as the sector's international partner. Vinexpo Bordeaux takes place in uneven years, while Vinexpo Hong Kong (formerly Vinexpo Asia-Pacific) has been held in even years since 1998. In 2014 Vinexpo expanded into the Japanese market with the launch of a third biannual fair, Vinexpo Tokyo. Vinexpo Hong Kong and Vinexpo Tokyo are now key events in the Asian wine and spirits trade calendar. In January 2017 Vinexpo initiated a new concept, Vinexpo Explorer, two days of business meetings and discovering vineyards. Vinexpo New York, which takes place for the first time on 5 and 6 March 2018, will open doors to the US market for international exhibitors.