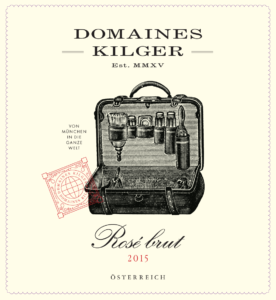 Rosé sparkling wines are on the upswing. Here's one that confidently asserts its place outside the mainstream.
The grapes for this Sekt are grown on vines of the variety Blauer Wildbacher, planted on steeply sloped hillsides in the Austrian wine region Weststeiermark, where the slate soils impart structure and complexity to the grapes and their juice. The nature of the variety guarantees firm structural acidity, which serves to support the freshness and brilliance of this sparkling wine.
Working together with the seasoned Styrian grower Christian Reiterer, renowned wine aficionado Hans Kilger from Munich has been producing wine in the Steiermark since 2015. The two gentlemen make a terrific team, in that they share the ambition of producing wines that show mature harmony – wines that are not intended just for immediate gratification, but rather look forward to long life in the cellar, to provide years of drinking satisfaction – and above all function as well-balanced table companions to fine cuisine.
And they have scored a rousing success with this sparkling wine. Fermented in the bottle according to classical practice, the Rosé Brut was given 16 months sur lattes to mature. Now it is truly impressive for its fine aromatic profile, elegant freshness and concentrated structure.
And it is not only the wine's flavour that one recognises as individualistic in style: the presentation also has its own distinctive character. The wines of Domaines Kilger play upon the inexhaustible entrepreneurial spirit of Hans Kilger, whom practically no one has ever seen without a suitcase in his hand.
At ProWein '17 Mr Kilger will give us a look at what he's carrying in his suitcase.
In Hall 17 / at Booth E54.