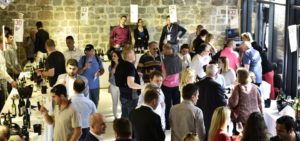 THE FOURTH EDITION OF DUBROVNIK FESTIWINE
The fourth edition of the top wine event, Dubrovnik FestiWine, will take place from 17 to 23 of April 2017 in Dubrovnik. The Festival is organized by the Dubrovnik-Neretva County and produced by the Dubrovnik PartneR Agency, with the support of the Festival's partners and sponsors. An increasing number of true wine enthusiasts will have an opportunity to taste some of the finest wines at one place, take part in different interesting wine workshops, be a part of the rich off program and spend time with the reputable wine producers, experienced sommeliers and wine experts.
Dubrovnik FestiWine was founded in 2014 as the leading wine festival of the Dubrovnik-Neretva County, with the vision and goal to promote wine culture and unique wines of Dubrovnik-Neretva County. This region is widely known for its centuries long tradition of wine-making and is globally recognized by many wine makers, researchers, promoters and wine lovers.
'Following the successful repositioning and promotion of local wines in the overall promotion of Dubrovnik-Neretva Country, Dubrovnik FestiWine opens its doors and invites both Croatian and international wine producers to join us in Dubrovnik this spring,' adds Nikola Dobroslavić, the Dubrovnik-Neretva County Prefect.
The central event of this year's Dubrovnik FestiWine is Dubrovnik FestiWine Exhibition, which will host some of the best national and international wine producers. The exhibition will undoubtedly delight numerous wine lovers, who will visit Dubrovnik for the FestiWine in April for the fourth consecutive year. In addition to the widely recognized Dubrovnik FestiWine
Exhibition, Dubrovnik Festiwine has prepared many interesting events, such as 'Dubrovnik FestiWine Gala', which will welcome many food and wine enthusiasts; Dubrovnik FestiWine Trophy, the traditional wine competition, which is also going to be held for the fourth time, 'Dubrovnik FestiWine Wine Week', during which all guests are invited to taste some of the best local specialties and fine wines of Dubrovnik region.
Do not miss the program of this year's Dubrovnik FestiWine:
Dubrovnik Wine week / 17th to 23rd of April
Enjoy the wines of Dubrovnik-Neretva County paired with authentic meals in wine friendly restaurants and bars.
Dubrovnik FestiWine Gala, Dubrovnik Palace hotel / 20th of April Gourmet tasting spectacle with a noble cause. Gala spectacle prepared by famous chefs Fabricio Vežnaver and Petar Obad, assisted by the last year's scholarship winners Tihomir Antunović and Đuro Kravić. Aleksandar Noršić, a reputable sommelier and a member of the Dubrovnik FestiWine Trophy jury will pair the winning wines of the last year's Dubrovnik Festiwine with artfully prepared courses by the chefs; Ingrid Badurina, gastro journalist, will lead us through the evening. The proceeds of the gala will be directed towards education of young culinary talents.
Central wine exhibition, Lazareti / 21st and 22nd of April
We invite all wine lovers, as well as those who'd like to become one, to join us at the fourth edition of Dubrovnik Festiwine, a festival where everyone will find something for themselves: you can expect many interesting events, wine tastings, educational programs and fun times with wine producers and distinguished wine experts.