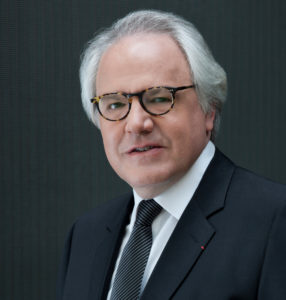 Bordeaux, 7 april 2017 – The Supervisory Board of Vinexpo SAS, which met on 6 April 2017, has appointed Christophe Navarre, Chief Executive Officer of Moët Hennessy, as its new President.
Having been appointed as a member of the Supervisory Board at the General Meeting of Shareholders on 5 April, Christophe Navarre takes over from Xavier de Eizaguirre, who has completed his term of office.
Christophe Navarre also becomes President of the Supervisory Board of Vinexpo Overseas, the group subsidiary that manages Vinexpo's international operations.
Christophe Navarre's arrival represents a key milestone in the company's development in France and internationally. With his experience at the helm of Moët Hennessy since 2001 and his in-depth knowledge of the major global wine and spirits markets, Christophe Navarre brings a fresh impetus to Vinexpo as it faces the challenges ahead.
"For more than thirty years the Vinexpo brand has successfully promoted the wine and spirits sector in general – and French exports in particular. I'm delighted to contribute to its development, working alongside the Management Board," stated Christophe Navarre.
Patrick Seguin, President of the Management Board, and Guillaume Deglise, Chief Executive Officer of Vinexpo, added: "Appointing a professional of Christophe Navarre's calibre as President of the Supervisory Board reflects Vinexpo's ambitions to take its skills and expertise to ever higher levels."
Two other leading figures from the wine and spirits sector are also joining Vinexpo's Supervisory Board: Philippe Castéja, President of Borie-Manoux and of the Conseil des Crus Classés 1855, and Philippe Guigal from Rhône producer E. Guigal.
About Christophe Navarre
Christophe Navarre is 58 years old and was born in Belgium. He gained a degree in Business Administration from Liège University and then joined Continental Bank in 1980, subsequently moving to Exxon where he fulfilled various marketing and sales roles for the Esso Group.
In 1989 he joined Interbrew where he successfully managed a number of subsidiaries, developing a strategy based on promoting premium brands and launching highly innovative products.
Christophe Navarre joined LVMH Group in 1997, taking charge of the prestigious cognac producer JAS Hennessy & Co. In May 2001 he was appointed President and Chief Executive Officer of Moët-Hennessy, the Wines and Spirits division of LVMH which owns the prestigious champagne brands Moët & Chandon, Dom Pérignon, Mercier, Veuve Clicquot, Ruinart and Krug, whisky brands Glenmorangie and Ardbeg, vodka brand Belvedere and several wines from the New World.
Among his other official commitments, Christophe Navarre is also a board member of the Comité Colbert and a member of the Heineken Advisory Board. His term of office as President of the Fédération des Exportateurs de Vins et Spiritueux (FEVS) expires on 12 April 2017.