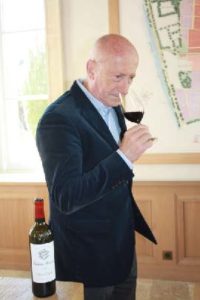 Hervé Berland (Manager of Château Montrose) comments on the 2016 vintage
For Château Montrose, 2016 is an exceptional vintage.
With contained, controlled strength, 2016 is distinguished from other vintages by its impressive tannic density, incredible polyphenolic indexes, fine aromatic expression, a relatively low alcohol content putting it in line with the great wines of Bordeaux, and an incredible freshness.
The weather in 2016 – a rainy spring, hot and dry summer allowing for perfect ripening of the grapes – produced a little miracle of nature: the water stress seen mid-August put the brakes on the development of sugars without interfering with the other analytical parameters. Thus, despite 3 months of drought which should have caused a high concentration of sugar resulting in high alcohols, we remained at the very Bordeaux-style level of around 13.3%.
This vintage also benefited from all the technological progress and change that Château Montrose has implemented with the new technical team in place for 5 years. The ever-greater precision of work, in the vineyard as in the cellar, found its culmination in this vintage.
The most successful vintage of Montrose
With which other vintage(s) can one compare the Château Montrose 2016?
Our feeling, shared by many tasters who have not found default with this wine despite having looked for it, is that it is precise, powerful, controlled. Each element is in place and we can find only positive (eulogistic) words to judge this vintage, which figures, for us, at the head of the trilogy of the past 3 years.
There is neither the exuberance of the 2009, nor the classicism of the 2010.
The 2016 offers the quintessence and the signature of our terroir, with a perfect balance between rich aromas, great freshness and powerful tannins. Its depth is combined with great length, and a touch of salinity on the finish which gives this "indulgent" quality to the great vintages of Montrose. We put 2016 on a level with our best vintages, or even beyond.
More than 1600 tasters from the 4 corners of the world…
Given the weather in 2016, the professional tasters were expecting wine of very high
quality from this year. They were therefore even more numerous this spring, coming from
all over the world to taste Château Montrose and La Dame de Montrose en primeur. Their
comments, mostly laudatory, were taken by the teams at the property as recognition for
the precision work undertaken daily, in the vineyard as in the cellar, which came to fruitionin this blend, the true signature of Montrose.
"Personally, I have never tasted such a successful Montrose as this. We believe that this
vintage crowns the exceptional trilogy of the past 3 vintages of Château Montrose – 2014,
2015, 2016," concludes Hervé Berland.