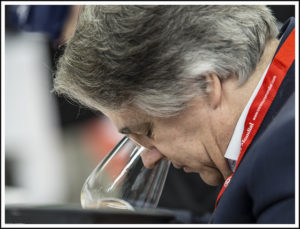 Host country Spain collects the highest number of medals.
China wins twice as many medals as the previous year.
9,080 wines competed this year for the coveted Concours Mondial de Bruxelles medals in Valladolid, the capital of Castilla y León. The 320 international panel members awarded Silver, Gold and Grand Gold medals to top entries. Winners with the highest number of points in the red, white, rosé, sparkling, organic and fortified wine categories received Revelation accolades:

2017 International Revelation Fortified Wine:                     
D'Oliveiras Madeira Wines 1994,
Pereira d'Oliveira (Vinhos) LDA, Portugal
2017 International Revelation Organic Wine:                   
Selendi Sarnic Shiraz 2013
Selendi Winery, Turkey
2017 International Revelation Red Wine:                           
Terre Della Baronia 2014
Azienda Agricola G. Milazzo SRL, Italy
2017 International Revelation Rosé Wine:                         
Burro Loco Rosado 2016
Consejo Bodegas SL, Spain
2017 International Revelation Sparkling Wine:                
Champagne Jean Dumangin Brut Millésime 2009,
EARL Jean Dumangin, France
2017 International Revelation White Wine:                        
Raimat 100 2015
Codorniu Raventos, Spain
The top ten medal-winning countries this year are Spain, France, Italy, Portugal, Chile, China, Bulgaria, South Africa, Switzerland and Greece (both on place 9) and the Czech Republic. Host country Spain has the highest number of medals (last year Spain came second, after France) spearheaded by Castilla y León with 29.4 % of Spanish accolades. Italy, Portugal, Chile and Switzerland hold the same place in the top ten as they did in 2016. Conversely, China moves up two places, after being awarded more than twice as many medals as the year before (78 medals in 2017 vs. 36 in 2016). Greece and the Czech Republic are "the new kids on the block" in this year's top ten.
Spain has the highest number of Grand Gold medals – this year and last – followed by Portugal, France and Italy. China won 4 Grand Gold medals, climbing up the top ten from 10th place to 5th place this year.
693 organic and biodynamic wines were entered in the 2017 Concours Mondial. The number of entries in this category has grown by a staggering 80 % over the past three years. Current market trends and higher consumer awareness and interest in the origin and production methods of wines prompted the competition's organizers to create the new "Organic Wine Trophy". The winner of this prestigious medal, awarded for the first time in 2017, is a winery from Turkey.
Another new medal made its debut this year at Concours Mondial: the award for "Exceptional Old Vintages". The quality of nine Portuguese wines swayed the panel which awarded them the highly-sought-after medals. Portugal was the absolute leader in the old vintage category followed by Spain, Slovakia, Italy, Hungary and Switzerland.
"Exceptional Old Vintages" 2017
Concours Mondial de Bruxelles award-winners are not just recognized for their quality, they also offer excellent value for money. 57.6% of all awarded wines in 2017 sell for under 8.50 euros ex-cellar.
Concours Mondial de Bruxelles is the only wine competition to perform post-event sample checks in order to ensure the consistent quality of its medal winners.
The next Concours Mondial will be hosted by the Haidian district in Beijing from May 10-13, 2018