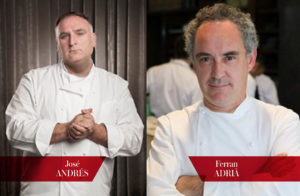 On Monday 19 June, Vinexpo Bordeaux will welcome the chefs Ferran Adrià and José Andrés for "A Taste of Spain", one of the biggest Spanish food events ever held outside Spain. The chefs' visit to Bordeaux is an exceptional event in itself. Ferran Adrià and José Andrés will introduce 12 Spanish Chefs to showcase wines from around one hundred Bodegas while cooking specialities from their regions in front of guests.
Exceptional ambassadors
"Every bottle of wine tells a story. If you're really lucky, the best ones take you on an actual journey, through the terroir, the vineyard and to the cellar they come from. I can't wait to tell those stories at Vinexpo Bordeaux", José Andrés enthuses.
José Andrés is a true icon in the world of gastronomy. He champions Spanish cuisine to the whole world through innovative techniques, 26 award-winning restaurants and, surprisingly, his food truck. Alongside him is the three-Michelin-starred chef Ferran Adrià, considered one of the greatest chefs in the world, most notably due to the famously imaginative cuisine at his restaurant elBulli, which was judged best restaurant in the World by Restaurant Magazine in 2002, 2006, 2007, 2008 and 2009.
These two great stars of Iberian cuisine have chosen and mentored 12 chefs for Vinexpo, each one from a different Spanish wine growing region, to represent their region by cooking a dish live on site. They are: Ignacio Echapresto, Diego Gallegos, Andreu Genestra, Pablo Loureiro, Miguel Angel Mayor, Aurelio Morales, Marcos Morán, Javier Olleros, Juan Carlos Padrón, Albert Raurich, Rubén Sánchez Camacho and Ignacio Solana Pérez.
These 12 chefs will prepare brand new dishes to accompany the tasting of 110 exceptional wines chosen by Vinexpo's official partner, the celebrated American magazine Wine Spectator. Their creativity will give a new twist to culinary specialities from La Mancha, Catalonia, Asturias and the Basque Country, while showcasing the greatest bodegas of Rioja, Ribera del Duero, Galicia and Jerez.
This sensory journey around the Iberian Peninsula represents an unprecedented tasting opportunity, putting all the richness and diversity of the Spanish wine growing regions front and centre.
Monday 19 June from 7.30pm at the Palais de la Bourse, Bordeaux.