Terracruda Cellar as every summer is happy to invite you to the most anticipated and cheerful event of the summer: the unique and original Terracruda Vineyard Dinners!
A unique sensory experience to live immersed in a dreamlike setting, tasting the typical dishes of local tradition, accompanied by the selection of the best wines from the Terracruda Cellar .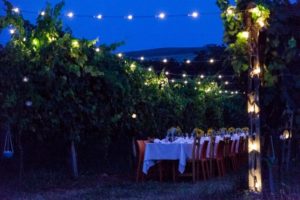 Dinner in the vineyard, program:
Friday 07th July
SummerTrade, Rimini
Wednesday 12th July
Il Giardino, San Lorenzo in Campo
Friday 14th July
La Graticola, Fratte Rosa
Wednesday 19th July
Osteria del Borgo, Pergola
Friday 21st July
Guerrino Catering, Fano
Wednesday 26th July
Summertrade, Rimini
Friday 28th July
Vittoria Maris, Torrette di Fano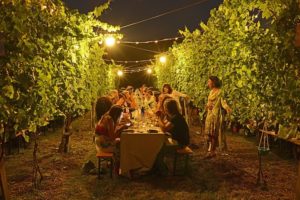 Aperitif in Cantina Terracruda from
7 p.m. and then we moving in the vineyard for dinner at 8.30 p.m. 

In collaboration with local restaurants, which will offer traditional dishes of Marche Region. The cost of each dinner is € 50 per person, including a choice of wines chosen according to the four course meal. Children 0-5 free, 6-16 € 20.
Reservation is required  +39 0721 777 412.
The menù will be available each week on our web site and on our Page on Facebook Cantina Terracruda. The dinner take place outdoors in the vineyards and during the evening the temperature could be cool, so we recommend to bring a jacket or sweater along.