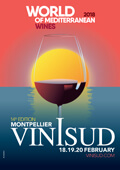 Vinisud 2018 takes place from February 18 to 20, 2018 at the Montpellier showground.

The global benchmark for Mediterranean wines will welcome over
1,650 exhibitors and 30,000 visitors from 80 countries and is inventing new formats to promote engagement and marketing opportunities.
Every year, Vinisud provides exhibitors and visitors from around the world with a unique opportunity to meet up for the first international business event of the year. The show is entirely geared to supporting development of wines from around the Mediterranean. Playing a pivotal role in the global wine scene, they represent over 30% of production and nearly one third of world exports.
Vinisud's success stems from its reputation as an effective, innovative trade show. Drawing on its Mediterranean culture, it has developed its own distinctive trademark as a dynamic, forward-looking international show with an open-minded approach to business. Acting as a bellwether for new trends, it offers attendees dedicated, themed areas including the Nouvelle Vague by Vinisud, Sparkling Zone, Palais Méditerranéen, Wine Mosaic with its rare and native grape varieties, Wine Tourism…
Vinisud is not just a trade event, it is a benchmark for wines from the South and an easily identifiable show that resonates with the media, both social and conventional, across the globe.