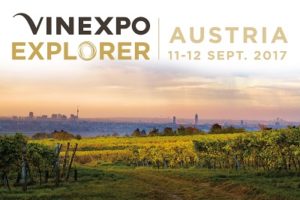 Where matters of international wine marketing are concerned, Austria has demonstrated without any doubt that great successes are possible even with a modest acreage under vines. In the thirty years of the Austrian Wine Marketing Board's existence, the nation's average export price has risen steadily, impervious to any and all economic crises. At the same time, this small but dynamic land in the heart of Europe has established a reputation as the source for wines that are marquee-players on the world stage. This has also attracted significant attention in 'la grande nation' France: Vinexpo, the world-famous, powerful and potent partner of the wine and spirits industry has chosen Austria as the venue for launching their fully new event concept 'Vinexpo Explorer'. On 11–12 September 2017, about 100 selected wine merchants from all over the world will come together in Austria with almost 100 of our winegrowers – to reach a meeting of the minds and the mercantile in matters of Austrian wine.
Vinexpo Explorer – a new concept"
Vinexpo director Guillaume Deglise conceived the idea of bringing wine merchants and growers together, but of doing so away from the hustle and bustle of the great wine fairs. And so Vinexpo Explorer was born, designed to do exactly what the name indicates – explore – and it's precisely this that defines the unique and distinctive concept of the event, undertaking a concentrated and keenly focused voyage of discovery within the space of a couple days: to taste wines, visit wine estates, have one-on-one conversations with wine producers and build networking. Participation for a wine-producing country is only possible by invitation from Vinexpo. Monsieur Deglise expressed his opinion as follows: 'I do not think there is a more exciting destination than Austria to host Vinexpo Explorer Chapter One. Although Austrian wines have been for a few years a fast-growing category for many sommeliers and wine lovers around the world, they have kept some sort of mystery, which we are going to disclose during the days of our visit.'
Chapter One: Wine from Austria
'It is an enormous honour, but also a terrific opportunity as well, that Austria has been invited by Vinexpo to open the inaugural chapter of a brand new event format', responded Willi Klinger, Managing Director of the Austrian Wine Marketing Board. 'It gives us great pride that almost 100 international wine merchants have accepted our invitation to come to Vienna in mid-September, and want to become better acquainted with our wines, our wine-growing regions and our winegrowers. With this, the starting bell has rung for a new era of mobile wine trade fairs.'
Austrian Wines – fresh, authentic & elegant…
Alongside internationally successful grape varieties such as Riesling, Sauvignon Blanc, Gelber Muskateller, Chardonnay, Weissburgunder, Pinot Noir, Merlot and Cabernet Sauvignon, in recent years the great potential of autochthonous Austrian grape varieties has become ever more apparent, with the calling card Grüner Veltliner leading the way. But Austria's autochthonous red wines and the nobly sweet Prädikatswein (BA, TBA, Ausbruch) from easternmost Austria have also been discovered more and more by wine lovers worldwide. Austria's particular geographic situation is the most significant factor influencing the distinctive quality of her wines. Warm, sunny summer and autumn days coupled with the cool northern nights are conducive to the development of refreshing and aromatic wines with solid body and fine character. There is simply no other place on earth where fresh wines are so compact and dense, where opulent wines taste so nimble.
…and quite naturally
It is of special interest to look at the experimental 'natural' wine scene in Austria. It is also rather noteworthy that Austria places particular value on respectful interaction with nature. Thirteen per cent of all Austrian vineyards are cultivated according to the precepts of organic agriculture – in this, Austria has assumed the leading position worldwide. And environmental consciousness pairs quite well with accomplishment: this is proved very clearly by the continually growing number of high-performance estates achieving great things while diligently applying artisanal methods of production. Wines are produced here in Austria, which – thanks to their concentrated body and climate-driven freshness – acquit themselves as marvellous dinner table partners to dishes of the most widely ranging styles of cookery and international culinary traditions, from Wiener Schnitzel to sushi.