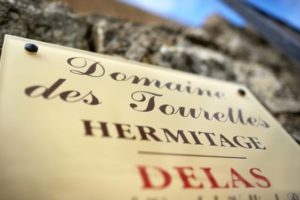 Growing Cycle
In 2003, the meteorologists told us to expect more and more hot vintages … 2017 is undoubtedly one of these vintages. Since the very early bud burst, due to a particularly mild spring, up until the time of the harvest, the vines enjoyed particularly good growing conditions throughout the entire Rhône Valley. The speed of vegetative growth at the end of May and start of June took a lot of wine growers by surprise.
Our teams mainly concentrated on managing the rampant vegetation rather than on combatting cryptogamic diseases of which there has been no trace this year. This very strong vegetative growth led to some coulure (shot berries), here and there, at the time of the fruit set.
The Syrah, which is usually more prone to this phenomenon, was affected this year. The losses in terms of poorly fertilized berries, in this post-flowering period, were an indication that the harvest would be of low volume. The Grenache in the Southern Rhône was even more badly hit by the coulure and the volume of grapes harvested from our partners' lovely vineyard plots in the Côtes du Rhône is only half that of a usual harvest.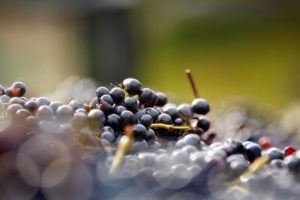 Harvest
Nevertheless, the grapes were able to reach optimal maturity over the rest of the summer and a bit of rainfall in July and August (30mm accumulated over the 2 months) was very beneficial to the vines, so we were able to start harvesting as early as August 28th on the "Les Marelles" plot in Crozes Hermitage white, immediately followed by the Hermitages from "Domaine des Tourettes" on August 30ieth , as well as the Condrieu from "Clos Boucher" from August 29th to September 2nd.
Potential degrees were soaring while the total acidity was dropping to dangerously low levels. To prevent imbalances detrimental to the wine's ageing potential, both in the whites and the reds, we decided to quickly pick the grapes in all our plots that showed technological maturity. The team of grape pickers therefore started harvesting "Les Bessards" from September 7th and "La Landonne" on September 9th with potential natural degrees oscillating between 13.5 and 14.5°.
Each plot of vines in the Delas vineyards were monitored almost daily, as were those belonging to our supplier wine growers. The last grapes were scheduled to be brought in on Thursday, September 21st .
Our first impressions are very positive and we already have high expectations for this vintage. Given the quality of the very pure, clean musts, we are anticipating some firm and complex wines. The colouring matter is very deep. The highly condensed and fine tannins show remarkable concentration.
Great vintages are traditionally the result of good conditions for both the vine and for the work in the winery.
2017 therefore promises to give us some lovely wines.
Jacques GRANGE, Chief Winemaker & Head of production Claire DARNAUD McKERROW, Winemaker – Assistant to Jacques GRANGE