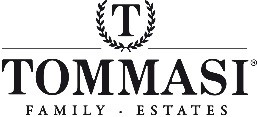 In Montalcino a preview of the new vintages of the prestigious Tuscan denomination, from the 16th  to  the 19th  of February
The team of oenologists at Tommasi Family Estates, Giancarlo Tommasi and Emiliano Falsini will present the new vintages of Podere Casisano: Brunello di Montalcino 2013, Rosso di Montalcino 2016 and the Colombaiolo Brunello di Montalcino Riserva 2012 during Benvenuto Brunello.
The event organized by the Consortium Tutela Vini di Montalcino is a highly anticipated weekend kermesse, where the recently released vintages are presented to the press, and, on a five-star scale, the 2017 vintage rating will be announced. A consolidated tradition during the event, is the ceremony when a commemorative tile will be affixed to the wall of the old Town Hall and the Leccio d'Oro Prize awarded.
«These wines are the result of an intense collaboration between professionals who cultivate a great passion for Montalcino, and strive to enhance the identity of the territory and the vintage», explains Giancarlo Tommasi, head oenologist at Tommasi Family Estates.
Emiliano Falsini, the oenologist responsible for the production at Podere Casisano, emphasizes: «We worked in the vineyard as in the cellar, trying to create wines that speak a language of character, elegance and uniqueness, to be appreciated and sought-out worldwide».
Casisano is a compelling project, particularly dear to the Tommasi family. Their precise aim is to maintain the course of this historical estate and to work meticulously to further the quality of already internationally acclaimed wines. Starting from the land, to the vine and the cellar, each day is a step toward creating wines that have the potential to represent the pinnacle of this singular terroir.
Casisano is one of the oldest estates in Montalcino and an important part of Tommasi since 2015.
The Podere Casisano estate is a splendid natural terrace at 480 m a.s.l. overlooking the south-east area of Montalcino, in front of Sant'Angelo in Colle and St. Antimo Abbey. The prestigious wines, from Rosso to Brunello di Montalcino, rest and are refined in the silence of the underground ageing cellar in large Slavonian oak casks, a guarantee of tradition and the classic style of this remarkable land.
The soils are composed of sandstone and marl rocks with the presence of galestro rocks, clay and volcanic tuff. The microclimate is well-suited to viticulture, dry and windy, with favorable diurnal temperature variations.