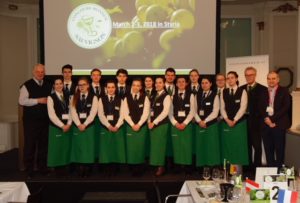 Over 950 wines take part, an 11.2% rise on 2017
Austria sees a 182% increase in entries this year and reaches record high
70 judges come from 18 countries including South Africa, Japan and New Zealand
March 2, 2018 (Graz, Austria): The 2018 Concours Mondial du Sauvignon opens today in Graz, Austria, in the heart of the country's wine region Styria (Steiermark). A total 958 wines from 26 countries will be competing this year, up 11.2% on last year, despite the significant shortfall in wine production across Europe in 2017. Seventy professional judges from 18 countries will evaluate entries over two days of tasting on March 2 and 3, with many of the wines coming from the host country Austria, which posted record entry numbers. "The high number of entries from Austria, and especially Styria, shows that more and more wineries are investing in the export market in order to make the outstanding quality of our Sauvignons known outside the German-speaking countries", said Willi Klinger, managing director of the Austrian Wine Marketing Board. His enthusiasm is echoed by the competition's director, Thomas Costenoble: "Some wine marketing boards are extremely dynamic and see synergies and the potential to partner with other like-minded regions through the competition. They do not see themselves as rivals, but choose to ride the crest of a popular wine category together".
The Concours Mondial du Sauvignon is more than a simple contest between wine regions across the globe. It aims to promote recognition of the grape variety and foster dialogue between members of the industry and the media. From March 1 to 4, judges will gain unique insight into Austrian Sauvignon with a focus on Styria. Visits to wineries, workshops and tastings will punctuate their four-day trip to the country. "I am delighted that the Concours Mondial du Sauvignon is finally receiving the value it deserves in Austria too, because it is one of the most important international white wine competitions worldwide. A cool climate wine country like Austria and especially a Sauvignon stronghold like Styria simply cannot miss an event like this. We consider it an honour that Graz was chosen as the venue for the Concours Mondial du Sauvignon 2018", said Willi Klinger.
The results of this year's competition will be announced during a presentation at ProWein in Düsseldorf, on March 18 from 2:00 – 3:00 pm in the Forum in Hall 10.
About the Concours Mondial du Sauvignon
The competition was launched in 2010 by the Bordeaux & Bordeaux Supérieur growers' organisation to promote awareness of its white wine proposition and turn the spotlight on one of the world's most popular white varietals. The event has now evolved into a global challenge with new producer countries entering every year and overseas venues including Fruili in Italy, Rueda in Spain and Graz in Austria this year.
Technical management of the tastings is handled by the organisers of the Concours Mondial de Bruxelles who bring with them over 20 years' experience in organising major international wine competitions.
In addition to Grand Gold, Gold and Silver medals, special Revelation trophies are awarded to wines securing the highest scores, recognising the excellence of Sauvignon blanc in the relevant categories