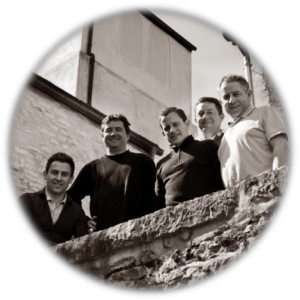 This summer this emblematic domain in Saint-Aubin, that is also a major producer in the Côte d'Or and other quality areas of Burgundy, joined the « Vignobles & Signatures' family. They bring to the Club their own values of compassion, respect, energy and motivation.
Created in 1885 with a plot of vines bought by Louis Roux, the domain extended the holdings over the years from Saint-Aubin to surrounding villages (Chassagne, Puligny-Montrachet) up to Côte de Nuits, cultivating parcels in Chambolle-Musigny and Vougeot. The 70 hectares vineyard is nowadays divided amongst 14 villages and 123 lieux-dits in Côte de Beaune, Côte de Nuits, Côte Chalonnaise, Maconnais.
AN IMAGE AND AN AMBITION WHICH ADHERE TO THE SPIRIT OF THE CLUB:
The company is defined by Sébastien Roux, the 5th generation with his brother Matthieu, as « a dynamic, friendly family with a story and with plenty of ambition», much like the other members of Vignobles & Signatures. Just like them, his ambition is to raise the quality levels in production and sales as high as possible. In the last 15 years, the family has developed a very precise system of vinification from site selection. The ecological approach of lutte raisonnée – with as few additions as possible in the vineyard and winery – has helped the Roux family to protect the origins and terroir of their precious fruit, and to express it in the very purest way.
This membership represents for famille Roux « a kind of wedding, in which we commit ourselves to give our best », including the « special moments outside of business time where we spend time with each other ».
Famille Roux
Click here to discover the whole range, with more than 120 lieux-dits
The domain is open from Monday to Friday, 8h – 12h and 14h – 18h. Week-ends on appointment.
Famille roux – Domaine ROUX – Contact : Sébastien ROUX
42 Rue des Lavières – 21190 Saint-Aubin – 33 (0)3 80 21 32 – 33 (0)6 07 55 86 85 www.famille-roux.vin – contact@domaines-roux.com