Niepoort's 1863 Port for 100,000 Euros
It is a wine from the 1863 harvest. Franciscus Marius Niepoort filled the great vintage in wooden casks and laid it down to rest it in Niepoort's maturing cellar in Vila Nova de Gaia, where the wine was used for blending the famous Niepoort tawnies. More than forty years later, Dirk Niepoort's grandfather Eduardo Niepoort transferred the wine that remained into glass demijohns, vessels with a capacity of between eight and eleven litres. Nine demijohns were – as it is noted in Niepoort's cellar book – filled with the rare vintage on 18 September 1905. The wine remains even now in those glass bottles from the 19thcentury, still maturing. From time to time it has been tasted with great respect, and served to selected guests.
Matured for 155 years
In 2012 – meanwhile, Dirk Niepoort had taken over the management of the family business, in the fifth generation – Niepoort created the legendary VV (Vinho Velho) to celebrate the company's 170th anniversary. 999 bottles of this wine were produced, a blend of very old and valuable lots; a substantial part of it came from the demijohns of vintage 1863.
One last demijohn was left when Dirk Niepoort – on the recommendation of wine critic James Suckling – established contact with the traditional French glass manufacturer Lalique, still practitioners of one of the oldest glassmaking methods, the lost wax process (cire-perdu). This technique, passed down through generations by master craftsmen of the trade, is still used today at the Lalique factory in Alsace to create these carafes that are modelled in shape after the demijohns that lie in Niepoort's cellar in Vila Nova de Gaia.
Each of the decanters contains 1.5 litres of the precious wine. And each one is dedicated to a particular generation:
• Franciscus Marius van der Niepoort, born 1813
• Jakob Karel van der Niepoort, born 1848
• Eduardo van der Niepoort, born 1880
• Rolf van der Niepoort, born 1927
• Dirk van der Niepoort, born in 1964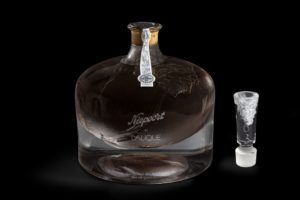 Most precious Port of all time!
The 1863 port is not only rare, but also particularly fine: US wine critic James Suckling scored it 100 out of 100 points. The doyenne of British wine writers, Jancis Robinson MW, gave it 20 points out of 20.
One of the five precious decanters, containing the last few drops of the award-winning wine, was consigned by Dirk Niepoort to the renowned wine auction house Acker, Merrall & Condit in Hong Kong. At an event at the Grand Hyatt Hong Kong on 3 November 2018, it was auctioned off – where it fetched the hammer price of 800,000 Hong Kong dollars net. Including taxes and fees, this amounts to more than 100,000 Euros!
A video about the project – 'Niepoort 1863 in Lalique' – can be seen on YouTube. https://www.youtube.com/watch?v=bq23JkiHcBQ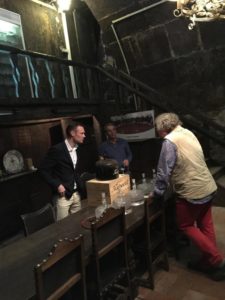 'Port is a very special liquid', says Dirk Niepoort. 'Five generations have collaborated on this wine and the sixth will still have a part of it. I do not know of any other craft where a product is created over so many years and so many generations.'
Incidentally, the high sum of money fetched by the wine breaks all records. Niepoort will be added to the list of Guinness world record holders.
About Niepoort:
Niepoort is the only Port house whose company name is the same as that of the proprietor. Dirk Niepoort is not only known for his great Ports, but renowned for his still wines as well, which brought a revolution to winemaking in the Douro. A founding member of the famous growers group the Douro Boys, his red table wines and his white still wines figure prominently among the avant-garde in Portugal.