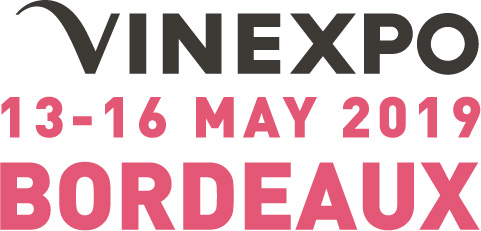 Bordeaux, April 25th 2019 – Vinexpo Bordeaux, the international wine and spirits trade show, returns reinvigorated this year from 13-16 May, prioritising quality, ROI and relevant content over expanding floor space.
A completely redesigned 20th edition
Vinexpo Bordeaux 2019, under the High Patronage of French President Emmanuel Macron, will consolidate the Vinexpo group's strategy to position its 5 international shows (Bordeaux, Hong-Kong, New York, Paris and Shanghai) as market-specific business events, fostering high-level meetings and access to major buyers and decision-makers in the sector, traditionally present at Bordeaux.
The Vinexpo team draw on several "Vinexpo Business" criteria to achieve this:
A manageable show: electing more modest surface areas over ever-expanding mega-exhibition space, dedicating more time to networking and less time to rushing between stands!
Matched meetings through a personalised and qualified business appointments service: One to Wine Meetings.
Content in line with global trends: climate change – the topic of an international symposium – and the rise of organic, with WOW! (World of Organic Wines) reporting a 15% increase.
A 'global welcome' – an enhanced reception and opportunities for socialising 'beyond the Vinexpo walls' with free access to public transport and certain museums such as Cité du Vin (free Bordeaux Métropole Vinexpo pass) on offer for all exhibitors and visitors, whatever their home nation, as well as the chance for exhibitors to invite clients and prospects to specially organised gala evenings (Diner du Palais, The Blend).
15% new exhibitors
Over 1,600 companies in the wine and spirits market from 29 countries will fill 70,000 m2 of gross exhibition space, making it the largest international wine and spirits trade show in France.
Vinexpo Bordeaux will occupy the whole of Hall 1, as well as the new Hall 2/ Palais2 l'Atlantique, dedicated to tasting events.
Participating French brands with international prestige include Champagne Bollinger, Henri Bourgeois, Minuty, GH Martel & Cie, Grands Chais de France, Champagne Nicolas Feuillatte, Albert Bichot, Joanne, Baron Philippe de Rothschild, Bernard Magrez and CVBG-Dourthe Kressmann.
International exhibitors from 28 countries are also central to Vinexpo Bordeaux, including: Argentina (Clos de los Siete and Catena Zapata), South Africa (Robinson & Sinclair), Spain (Felix Solis Avantis and Marqués de Cáceres), Italy (Piccini and Emilia Romagna), as well as China's Cofco Greatwall.
Vinexpo is consolidating its offering as an international meeting place for market players, with 15% new exhibitors and 3 new countries: Sweden, Turkey and Vietnam.
To help foster diversity, this year Vinexpo Bordeaux designed a pavilion to make the show more accessible to smaller exhibitors. In line with this concept, AANA (Nouvelle-Aquitaine Food Agency) also offered 4 x 12 m2 stands for SME wineries in the region.
Organic and biodynamic wines and spirits from around the world will be showcased at WOW! World of Organic Wines, featuring 150 producers from 9 countries. This event within the event benefits from the worldwide appeal of Vinexpo Bordeaux and will attract buyers seeking wines with an organic or biodynamic label. A restaurant serving 100% organic dishes will complement the offer.
Return on investment, thanks to the confirmed buyers programme
Vinexpo attracts international buyers, through its ability to bring together internationally renowned experts, whether they're winemakers at the stands or speakers at the tastings and talks.
Vinexpo Bordeaux is also the show to attend for decision-makers, as the key industry event that provides a platform for new products and an opportunity to expand professional networks.
Buyers are sure to be satisfied; this biennial show is THE strategic event for the wine and spirits sector, and visitor registrations are in line with previous shows.
European buyers such as Tesco, The Wine Society (UK), Casino, Le Petit Ballon (France) and Delhaize (Belgium) will attend alongside Asian buyers from Jointek Fine Wines (Hong Kong), Paradox (China) and Nippon Liquor (Japan), not to mention major US companies such as Total Wines.
All visitors and exhibitors have access to our networking platform, the One to Wine Meetings to set up qualified appointmentsthat deliver.
A highly relevant programme with around forty events
The Union des Grands Crus de Bordeaux, Renaissance des Appellations, Crus Bourgeois du Médoc, Liquoreux du Monde and Gambero Rosso will offer tastings from 13 to 16 May at Vinexpo Bordeaux.
The growth of e-commerce and direct sales of wines and spirits will be addressed at a talk on 13 May at Vinexpo Bordeaux with the CEOs of Vivino, Alibaba Tmall, Tannico, IWSR and Le Petit Ballon.
Finally, new to Bordeaux, The Vinexpo Symposium will be launched on Tuesday 14 May, in partnership with Nouvelle-Aquitaine Regional Council. This 1st International Symposium 'Act for change', focusing on 'the impact of climate change on the wine and spirits sector' will bring together researchers, economists and producers to put the spotlight on a sector that's well ahead of others in its climate change adaptation strategy.
The 3 highlights of this new event will provide insight into the impact of climate change on vineyards worldwide, the operation of wineries and wine-making and finally, the wine economy.
Also new this year, Vinexpo is organising an international wine tasting event for the general public the day before the show opens in the grounds of prestigious Palais de la Bourse, in partnership with Terre de Vins magazine.
Rodolphe Lameyse, CEO of Vinexpo, affirms "Today, buyers and businesses alike must meet the specific needs of their target markets. With this in mind and in this highly competitive market, the Vinexpo group chose to make the flagship Vinexpo Bordeaux a more manageable size, whilst capitalising on its high-level business positioning and strengthening both its appeal and the quality of its content."
ORDER YOUR VINEXPO BORDEAUX BADGE ONLINEDon't forget to register. Click on the link below to receive your badgeOrder your badge