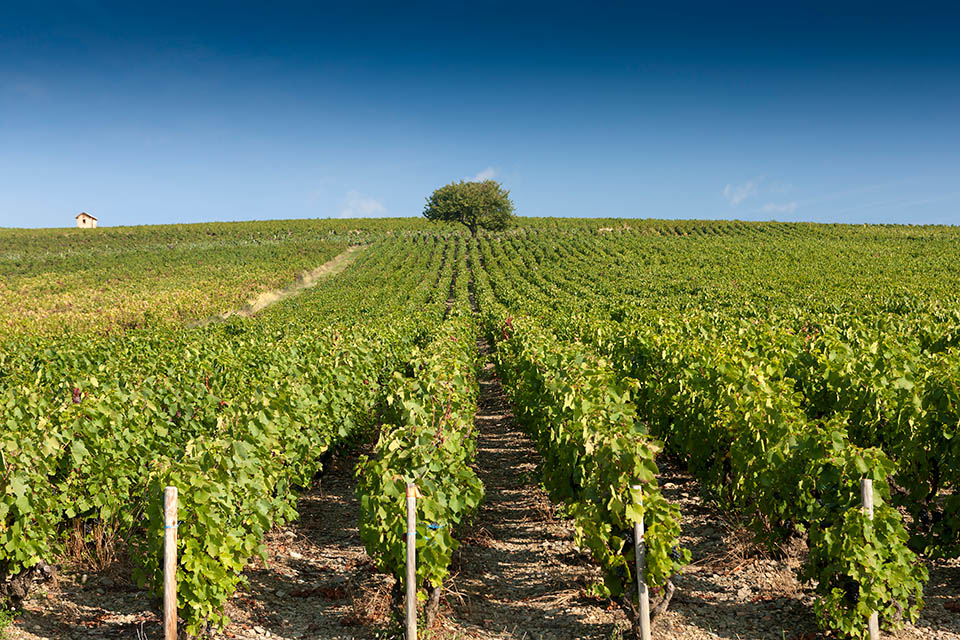 Review of a historically famous Cru that is back in the limelight
thanks to a large number of producers of top quality wine, including last January's World'sBest Gamay Trophy winner.
Gamay is the DNA of Beaujolais, where it is the only red grape variety. If every appellation expresses its fruitiness, it is also capable of bringing out the characteristics of the region's highly diverse soils. In Morgon, one of the ten Beaujolais cru appellation areas, the variety produces a full bodied and powerful wine, reputed for its ageing potential of 10 years and well beyond. Gamay displays the entire intensity of the terroir, the soil of which, comprises decayed stones derived from the decomposition of schist and volcanic rock. In terms of surface area, Morgon is the second largest cru after Brouilly. It is divided into 6 climates and provides wines that are at once solid, elegant and refined, always with fruity black cherry aromas, or even kirsch with age, and very nice spicy notes:
– Les Charmes faces south-east at an altitude between 300 and 450 m and is made up of granite arenas.
– Corcelette is the north-eastern part of the appellation with 300 to 400-m terraces and a light granite subsoil.
– Cote du Py culminates at 350 m on the hill known as Py combining volcanic subsoils and basaltic rocks.
– Douby is adjacent to the slopes of Fleurie.
– Grand Cras is a schist laden terroir, situated at a medium altitude of 260 m, in the southern and south-eastern foothills of Cote du Py.
– Les Micouds faces the rising sun and is the smallest climate in terms of surface area.
Morgon is steeped in history
If the culture of vine-growing already existed here during Roman times, Morgon's reputation peaked in the 30s, when it was as highly considered as the Great Cru Wines of Burgundy, both in terms of notoriety and price, as bears witness many wine menus and transactions!
The comeback
According to many critics worldwide, Morgon, which counts among the leaders of Beaujolais, is out in front thanks to its top quality winegrowers:
"Beaujolais is undergoing a renaissance and Morgon is a very nice alternative to Pinot from Cote d'Or" (Decanter)."The region is teaming with energy and young talented vintners are striving to bring out its full potential," stressed jamessuckling.com, which attributes the following characteristics to cru Morgon: "Structure, fruitiness and velvety tannins generally associated with the Rhone's appellations such as Cornas."
Jancisrobinson.com says that "it's reputed for its intensity and ageing potential."And Wine Enthusiast (USA) evokes its "concentration, strength, and richness."
The appellation is rich in terms of diversity, terroirs and growers, all of which produce different styles of wine.
Profile – Morgon │ 1,104 hectares │ 2018: 354 declared harvests │ Around 20% of the volume of the Beaujolais cru wines │ Production: 45 to 60,000 hl according to the vintage, that is to say 6 to 8 million bottles │ Highly well-known + 300 international brands in 2018.
Note: It is the only appellation without a cooperative winery.
Another reason for its success is Morgon's international appeal, it is popular both in New York and Asia alike as it pairs with most types of world cuisine: duck meat pate, Indian samosas, shoulder of lamb with herbs, Biryanichicken, monk fish with green pepper… And of course cheese like brie, Cantal, dried goat's cheese, and Ossau Iraty served with black cherry jam.
This vine-growing area boasts such a rich geology that it has obtained nothing less than the status of Geopark!
One of the finest winegrowing regions, Beaujolais was awarded the label of Geopark in the spring of 2018, thereby becoming the world's first Geopark. Its complex and rich geology provides highly diverse subsoils and landscapes and the Gamay grapes taste like their soil! At present, 127 Geoparks have been recognized in 35 countries on every continent. Beaujolais became a member of the club the same year as Satun in Thailand, the Izu peninsula in Japan, and Non nuoc Cao Bang in Vietnam.
WORLD'S BEST GAMAY TROPHY:
The winegrowers of Cru MORGON were proud when one of their fellow vintners won the World's Best Gamay Trophy in 2019 (last January in Lyon): the prize was attributed to "Morgon Fût de Chêne 2017", elaborated by Domaine Franck Chavy. This wine is unique as it was matured for 12 months in new oak barrels supplied by the Chassin cooperage firm and involved the use of different sized vats to obtain better complexity: 500 L, 350 L andtraditional Burgundy casks (the estate's 2016 Morgon was also awarded a gold medal).