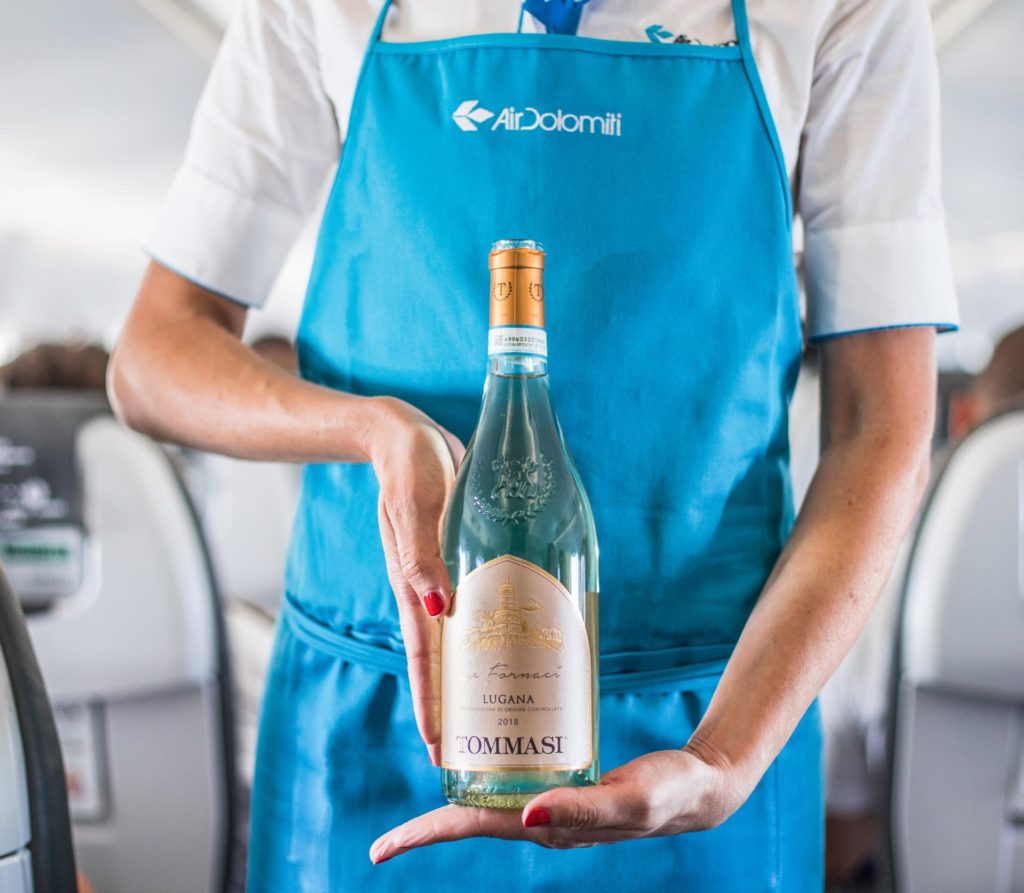 From Bahrain to Taiwan, but also in the USA and in Europe, the major airlines have chosen the Tommasi Family Estates wines to pamper their Business and First Class passengers.
Around 70,000 bottles of wines from Tommasi's estates, with a total value of approximately € 350,000, will be served on some of the world's principal airlines.
These are important joint ventures for the historic winery in the Valpolicella Classica zone, which exports its wines around the world as icons of Made in Italy. It can thereby make passengers' traveling experiences more pleasurable, with outstanding Italian products that make the airlines' food service – and flights as a whole – even more exclusive.
Wines from the Tuscan estates, Poggio al Tufo Vermentino and Casisano Rosso di Montalcino, will be served on board the Business Class of Gulf Air, the national airline of the Kingdom of Bahrain, which owns 34 aircraft and serves 49 cities in 27 countries, on the Indian sub-continent and in Europe.
From this October, Poggio al Tufo Vermentino will also be served to First Class clients of American Airlines. American Airlines is one of the world's largest air carriers, operating a vast national and international network with scheduled flights from North America to the Caribbean, Central America, South America, Europe and Asia. It offers an average of some 6,700 flights daily to 350 destinations in 50 countries.
Surani's Heracles Primitivo di Manduria, on the other hand, will be on board the Business Class of EVA Air Corporation, the international airline of Taiwan, which operates 5-star passenger services as well as cargo flights to over 40 destinations in Asia, Australia, Europe and North America.
The important collaboration with Air Dolomiti, the company in the Lufthansa group, will also continue until January 2020. Here Tommasi is the Wine Partner: in other words, the official Winery of the Year. The wines are offered in rotation throughout its network: 8 destinations in Italy and another 12 in Europe, for a total of more than 500 flights each week. On board one can enjoy three premium wines from the Tommasi estates. The products being highlighted in fact come from three different geographical areas, in order to satisfy the tastes of any palate: Caseo Pinot Nero Brut from Lombardy, Tommasi Le Fornaci Lugana from the southern shore of Lake Garda, and Casisano Rosso di Montalcinofrom Tuscany.
«These various partnerships are a result of the excellent teamwork carried out together with our importers, and of shared values such as authenticity and typical Italian style» states Giancarlo Tommasi, head of the Tommasi Family Estates Winemaking Team. They are a reward for the constant, assiduous work of our technical team which, at the various estates we own, from North to South, operates in a dedicated manner to produce wines that are increasingly authentic in their respect of the typical character of each individual terroir».
Tommasi's decision – as a producer that has acted as an ambassador for Italian wine around the world for over a century – to serve these airlines forms part of a broader company plan to be in tune with the habits and needs of consumers who are increasingly demanding and informed. Tommasi's clients are, likewise, able to raise the quality of their in-flight service thanks to products that offer the very best of our nation's wine-producing tradition.
Tommasi Family Estates
A family and a company that are dedicated to the present and future of Italian wine.
Tommasi represents the history of the Valpolicella zone, and several others besides. With six wine-producing domaines in five of Italy's Regions – Tommasi in the Veneto, Caseo in Lombardy, Casisano at Montalcino and Poggio al Tufo in Tuscany's Maremma district, Surani in Puglia and Paternoster in Basilicata – the company's goal is to create great wines and promote the qualities of terroirs that have a vocation for excellence.
The company set-up is completed by the De Buris luxury project: an Amarone della Valpolicella Classico D.O.C. Riserva, as well as a wide-ranging cultural program.
Four generations of pioneers, explorers, trailblazers and- especially – visionaries, who have concentrated on the importance of quality in every stage of production and who have been respectful of traditional methods while at the same time being open to experimentation.
With the unique experience and expertise it has cultivated and preserved over time, the Tommasi family seeks to enhance and promote each individual region, as well as following the guidelines of sustainability and hospitality.
Its passion for hospitality expresses itself in the Villa Quaranta Wine Hotel & Spa in Valpolicella, the Mazzanti Hotel and Caffè Dante Bistrot in Verona, and the Poggio al Tufo Agriturismo at Pitigliano in the Tuscan Maremma.
In 2018, Tommasi Family Estates produced around 3 million bottles, of which 14% were sold in Italy and 86% exported to some 70 countries abroad.