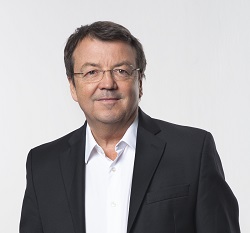 On 1 January 2020, Mr Wilhelm Klinger will assume management of Austria's leading wine retailer Wein & Co, which since 2018 has been part of the German conglomerate Hawesko Holding AG, one of the world's leading wine sales operations. In this role, Klinger will also become a member of the Hawesko Group's 'corporate strategy circle'. At the same time, Klinger will be turning over the management of the Austrian Wine Marketing Board (AWMB) to his successor Chris Yorke, after serving for thirteen years.
Top Austrian wine retail chain Wein & Co was founded in 1993 by Heinz Kammerer, and has since then shown dynamic growth. At the end of 2018, the German Hawesko Group acquired the company with its twenty branches and approximately 50 million Euro in annual sales. Following its successful strategic integration into Hawesko Holding, new Austrian management was sought for Wein & Co, and has been found in Willi Klinger. 

Mr Klinger comments: 'The return to Wine & Co is a true highlight of my career in the wine business and quite an emotional matter for me, because I was there twenty-six years ago, when we – with founder Heinz Kammerer and a great deal of effort – brought this baby into the world. I look forward to working with a young team as part of this perfectly managed Hamburg-based corporate group, which will give us the necessary support for the creative development of our Austrian cult brand. In addition, I can remain connected with my many old friends and acquaintances in the wine world – not least with the great team at the AWMB'.

Background: Hawesko Group
The Hawesko Group is Germany's largest integrated merchant for premium wines and champagnes, and one of the world's leading purveyors of wine. It bundles together entrepreneurially managed premium wine-selling brands, each with its own distinct profile and established market position. Its brands include: HAWESKO, Germany's leading mail-order & online wine business; Jacques' Wein-Depot, the largest German specialist wine retailer; Wein & Co, the leading purveyor of fine wines and champagnes in Austria; as well as Wein Wolf & CWD Champagner- und Wein-Distributionsgesellschaft, leading wine wholesalers. Overall, the Hawesko Group achieved sales of 524 million Euro in 2018 with eighteen strong brands and about 1,000 employees.