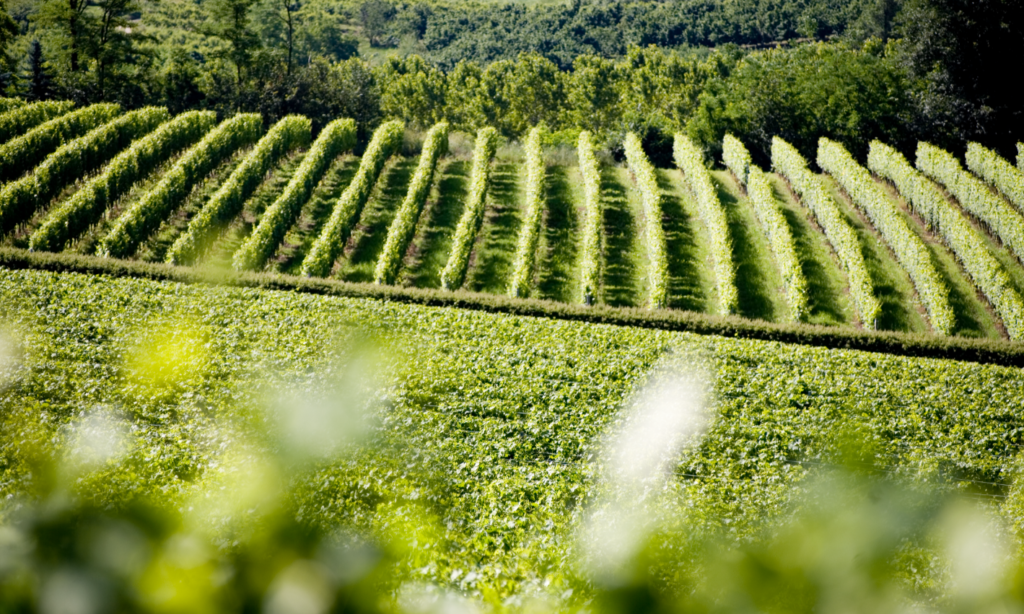 With over 80 hectares of estate vineyards distributed amongst the most prestigious vine growing areas of the Langhe and Roero, Tenuta Carretta believes that the commitment to sustainability does not end with simply higher quality products, but instead represents a daily and important action of responsibility. The possibility of producing wines that are capable of expressing their terroir is fundamentally tied to the premise of protecting the natural resources that make up this territory.
Under this commitment, the winery has officially been certified as practicing "integrated viticulture" since March 2019 according to the standards of The Green Experienceprotocol, commissioned by Coldiretti Piemonte. It is an intention, amongst many, to preserve the UNESCO vineyards landscapes of the Langhe, Roero and Monferrato.
The Green Experience is a protocol of environmental sustainability that is based on the premise of improved vineyard management through practices that conserve the landscape, both in biodiversity and appearance.
At a technical and operational level, Tenuta Carretta has for some years implemented solutions that respect the environment by adopting principals of integrated management. In the estates' vineyards, herbicides are no longer used (including desiccants), the use of insecticides has been greatly reduced thanks to pheromone traps, and natural predators have been used to control pests, like some species of birds and bats. In regards to controlling fungal diseases, zero impact mineral powders mixed with certain active principles are applied, thereby reducing the administration to the minimum necessary.
Grass is controlled through successive and repeated cuttings in controlled periods. This practice has contributed to an ecological balance between the rows that is essential for a better plant response, both in terms of quantity and quality.
"The vineyard is the fundamental element, because it is from there that the quality of the wine originates," Giovanni Minetti, CEO of the winery, comments. "But our vineyards are not just representative of a precious wine heritage. The UNESCO recognition emphasizes how this vineyard landscape has a great cultural, historical and social value that each of us have the duty to preserve and enhance; it represents the green heart of a territory to which we nourish an immense gratitude.
This is what has led to the create Grape's Road, the first audio-guided hike through the vineyards. It is an experience that is open to all (free), through which we are able to share our winemaking reality and contribute to raising awareness of how the protection of a territory can create value and beauty.
However, the real challenge for us producers today," Minetti continues, "is to create value in the context of sustainability, a concept that has arisen in response to the irresponsible consumption of natural resources. The strategic idea behind our production is to make wine using methods that allows us continuously increase quality with the least possible impact on the environment. For this reason, we have adopted the techniques of integrated viticulture, and are certified as such, as outlined by the framework of The Green Experience."