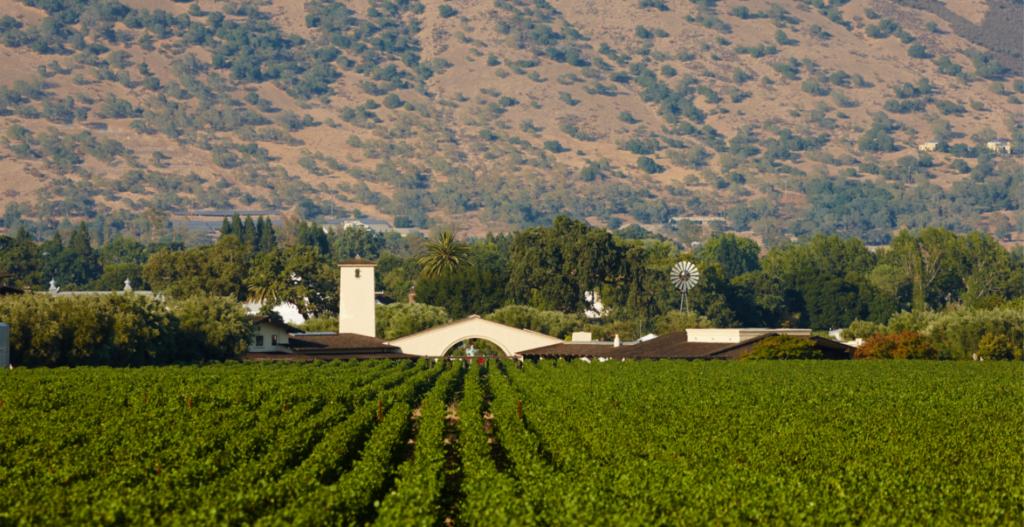 Robert Mondavi established his namesake winery in 1966, opening the door to the future of American fine wine. He chose To Kalon Vineyard in the heart of the Napa Valley as the home for Robert Mondavi Winery. This first-growth vineyard, located in Oakville, California, is renowned for producing some of the finest Cabernet Sauvignon wines in the world, as well as for its Sauvignon Blanc grapes, from which the winery crafted his Fumé Blanc label.Today the winery counts a total of 1,300 acres of vineyards, dispersed in the most prestigious growing areas of the Oakville, Stags Leap District, Carneros and Napa Valley appellations.
Mr. Mondavi believed that wines should reflect their origins, that they are the product of the soil, the climate, and the careful stewardship of those precious resources. He also believed in combining the newest techniques and technology with time-honored winemaking traditions.
Winemaking and vineyard teams are proud to carry on the founder's mandate to always strive higher, to pursue Robert Mondavi's goal of excellence with the same passion and innovative spirit, moving forward with programs that break barriers and open new frontiers. Leading this initiative is Geneviève Janssens, Director of Winemaking, whose relationship with the winery began in 1978.
SUSTAINABLE FARMING & ENVIROMENT
Robert Mondavi Winery has been recognized as a leader in environmental responsibility. 
Dedicated to growing wine naturally, the winery introduced its sustainable farming and conservation program more than 20 years ago with goals of worker health, environmental protection and enhanced grape quality.
Sustainable winegrowing for Robert Mondavi means working in harmony with nature to protect the health of people and the earth while producing the finest quality wine.
Environmentally friendly practices include conserving soils and water, managing pests, and recycling water and materials.
To Kalon Vineyard, Oakville
The Oakville region was granted appellation status and designated an AVA in 1993. This American Viticultural Area is differentiated from other Napa Valley regions primarily because of its mid-valley location. It is southerly enough to be cooled by morning fog from the San Pablo Bay to the south, but northerly enough to enjoy warm afternoon sunshine. Mondavi Winery and its To Kalon Vineyard are located in the heart of the Oakville region, the geographic center of the Napa Valley, and the cradle of great Napa Valley Cabernet Sauvignons for over 120 years.
Today the winery owns 435 acres located in the famous Oakville "bench", where soils are well-drained, composed by alluvial loam and clay on the valley floor, and gravelly loam on its slopes. Those vineyards are dedicated to Cabernet Sauvignon, which is the most highly planted variety in the area, followed by Sauvignon Blanc, Merlot, Cabernet Franc, Malbec, Petit Verdot, and Semillon.

Reserve To Kalon Vineyard Cabernet Sauvignon Oakville Napa Valley
When Robert Mondavi chose the To Kalon Vineyard in west Oakville as the home for his new winery in 1966 he remarked that, "It was a vineyard with a distinguished history and a magical nature. Ideal soils, sunlight, and rain, to my eye, the vineyard was a treasure."
Those sentiments were reconfirmed when the To Kalon Vineyard was named the Vineyard of the Year by the California State Farm Bureau in 2011. This Reserve is blended from the finest blocks within To Kalon.
The grapes are hand-harvested with three stages of strict sorting: first, on the vine, then by individual clusters, and then again by single berry following de-stemming. The selected grapes go directly into traditional French oak tanks for cold soaking, fermentation and extended maceration – a total of 37 days of wine to skin contact – maximizing the extraction of varietal character and complexity while keeping the tannins round and supple.
The new wine is drained and gently pressed into 100% new French oak barrels for malolactic fermentation, assuring se-amless integration of fruit and oak. The final blend is assembled through repeated tasting trials over twenty months of barrel aging. A testament to Napa's grand cru vineyard site, To Kalon's signature dark-fruited, dried herb complexity is seamlessly integrated with sweet oak spices of vanilla bean and toasted almonds. It sends a wave of deliciously intense flavors across the rich palate, a tasty expression of power and elegance.