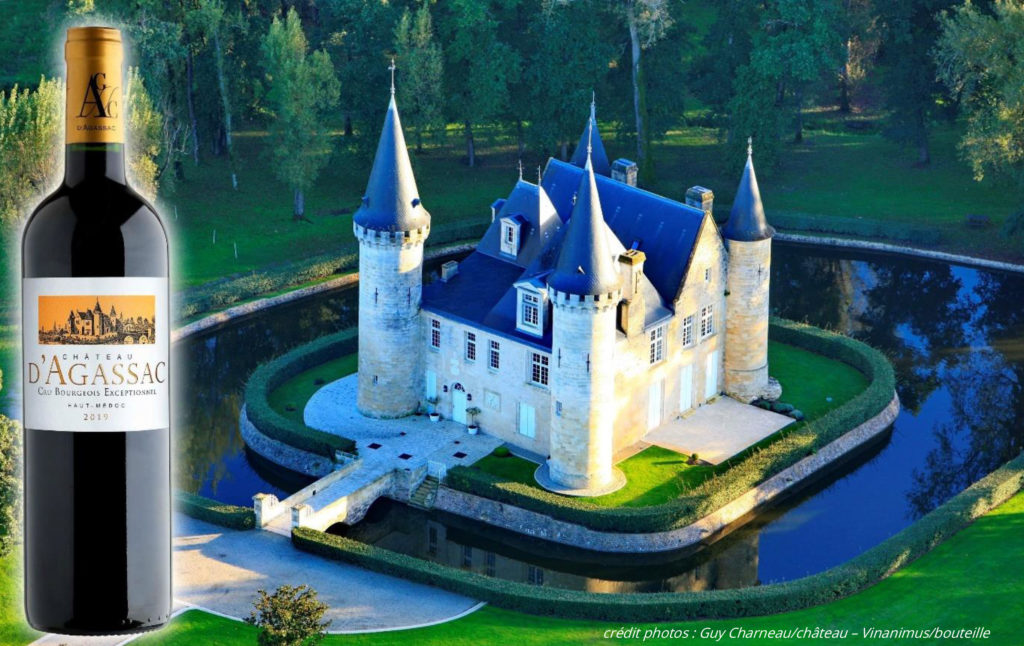 CHÂTEAU D'AGASSAC RANKED AS "EXCEPTIONNEL"
A transient title for a timeless estate
"For as long as I can remember, in the 23 years I have managed this estate, I have never looked back. Neither the ruins we restored, nor the efforts undertaken by our teams to significantly improve the quality of our wines have led us to consider taking a break. Together, we have contemplated how our activities will change over time, how our estate will face global competition in the future, or how we will adapt to increasing social and environmental challenges.
However, today, while speaking to you about Château D'Agassac's Cru Bourgeois Exceptionnel classification, I'd like to take a step back in time and thank consumers, tasters and journalists alike for their trust and loyalty over the years, which have undoubtedly helped us progress, restore this estate to its former glory and bring these great terroirs back to life. "
Five key values drive change at Château D'Agassac whose wine is distributed to over forty countries (1)
A timeless natural heritage cherished for 8 centuries
While Château D'Agassac was built over 800 years ago, it is only in the past 23 years that the new owners, Groupama, have strived to develop an in-depth understanding of the 45-hectare vineyard in order to ascertain the unique characteristics of each plot, terroir and vine. This never-ending quest for knowledge feeds into the estate's environmental policy .
An ethical and sustainable estate
Everything is thought through at the estate to protect the safety of consumers, local inhabitants, and employees, with the aim to ensure the sustainability of viticultural activities and the quality of Agassac wines. This policy is not new. Since 2003, Agassac's ongoing commitments have focused on overall product performance, as well as environmental and social issues. The estate obtained Terra Vitis certification in 2003, followed by level 3 High Environmental Value (HEV3) and ISO 14001 certification in 2012. In June 2018 and November 2019, a SMETA audit (Sedex Members Ethical Trade Audit) assessed and validated the estate's environmental, social and ethical practices .
Château D'Agassac is now able to go beyond the requirements that such certifications demand.
An estate that stands out, producing wines made by dedicated winegrowers
Benefiting from a geological location identical to that of the Great Growths (terraces 4 and 5 of the Médoc peninsula), Château D'Agassac has, for the past 23 years, worked hard to offer unique, precise, well-balanced and easy-going wines that fully express their terroir, which can be enjoyed now or in a few years' time, artisanal wines made by a dedicated team of winegrowers who do not conform to winemaking or blending trends. Since 2014, Stéphane Derenoncourt has contributed his knowledge of the terroir. His awareness and ability to respect and showcase the estate's unique identity reflects the vision of Jean-Luc Zell.
A prestigious estate and key local player
For 23 years, Château D'Agassac has opened its doors and developed pioneering wine tourism activities, including interactive iPad tours (in 2018, Château D'Agassac welcomed visitors from 58 countries / internal source) and the creation of the "La Table D'Agassac" restaurant. 20,000 visitors a year taste our wines and discover the estate, listed in the Inventory of Historic Monuments and five-time winner of the Best of Wine Tourism award. Firmly rooted in its region, Château d'Agassac hosts cultural events, including plays and concerts. It also opens its doors to professionals and private receptions (weddings), in a unique landscape featuring a moat and century-old trees.
KEY FACTS ABOUT THE ESTATE
Constructed: 800 years ago
Purchased by Groupama: late 1996
An 80-hectare estate featuring a 45-hectare vineyard covering 3 different terroirs
Grape varieties: 50% Merlot / 47% Cabernet Sauvignon / 3% Cabernet Franc
Average age of the vines: 25 years
Vine density: 6,700 vines/hectare
23 temperature-controlled stainless-steel vats
Château D'Agassac is aged in 60% lightly toasted French oak barrels from the Jupilles and central France forests, as well as in 40% micro-oxygenated vats in order to preserve fruity aromas in the final blend
Total production: 250,000 bottles/year
WINES divided into 6 labels with a defined terroir:
On terraces 4 and 5
Château D'Agassac primarily Cabernet Sauvignon 
L'Esprit D'Agassac primarily Merlot
On terrace 4
Précision D'Agassac primarily Cabernet Sauvignon grown on terrace 4, this cuvée is only produced in outstanding vintages, in the style of great Champagnes
On sandy-gravel colluvial slopes
Château Pomiès-Agassac primarily Merlot
Château Pomiès-Agassac Tête de cuvée a selection of the best batches of Château Pomiès-Agassac
On all terroirs
L'Agassant D'Agassac: the estate's "enfant terrible", this delicious, off-the-wall Médoc wine contains no trace of Cabernet Sauvignon (Merlot and Cabernet Franc)