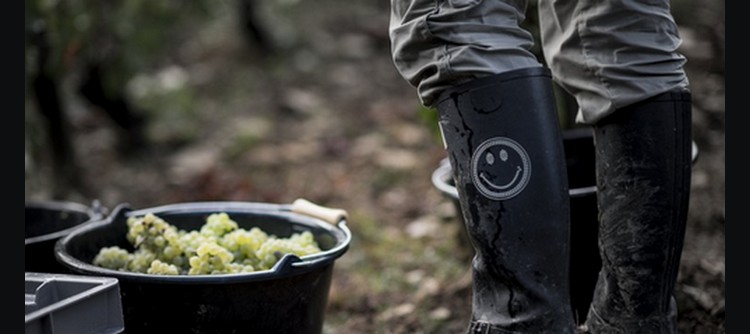 According to many wine professionals in Bourgogne, the 2020 vintage is quite unique. To begin with, the conditions and context surrounding its production were relatively complicated for everyone. In addition, this year was a historically precocious one, from budburst to harvest. In the end, for many winegrowers, the results have been absolutely exceptional, and remarkably classic!

When the lockdown began in mid-March, the weather was beautiful in France. It lasted until mid-September. The vines took advantage of this to get a 3-week head start at budburst. They were able to maintain their advance until harvest, which began on August 12 in the Mâconnais.
Very early flowering raised hopes for an abundant harvest. High summer temperatures, coupled with the lack of rainfall, caused a significant water deficit, albeit unevenly from one area to another. These shortages created a few occurrences of very concentrated grapes and even slight scorching on bunches facing the sun. This vintage is, more than ever, a mirror of Bourgogne's diversity. Within different appellations, or sometimes even within the same appellation, the maturities were occasionally staggered, as was the case with the flowering and depending on whether or not rainfall was present. Winegrowers thus needed to keep a cool head, and exercise patience when choosing the harvest date.
Vinification was easy, thanks to the extremely healthy condition of the grapes. There was practically no disease or rot due to the absence of rain. Sorting tables were only used to pick out a few scorched grapes.

Wine professionals have been enthusiastic by initial tastings: the particular conditions of this vintage have created unprecedented and unique balances. Of course, there is a subtle richness, but at the same time a pleasant tension, especially for the reds. Many are already anticipating 2020 as a vintage that will age exceptionally well, for both white and red wines. To be confirmed after the barrel ageing!

White wines
The white wines are fruity and express a beautiful aromatic complexity, with very good acidity. In spite of the summer heat, they are well balanced, with a classic freshness that meets the expectations of a typical bourguignon vintage.
Red wines
The red wines stand out with their incredible colors! They have beautiful sustained colors, a sign of abundant anthocyanins. The ideal conditions of sunshine and heat during ripening have led to concentrated wines, with lots of character, but without being heavy. Like the white wines, they have kept their freshness and offer luscious black fruit notes such as blackberry, blueberry, black cherry…