Bordeaux, 18th January 2021 – L'Observatoire opened last September as part of Le Gabriel, the famous fine-dining institution situated on Bordeaux's Place de la Bourse, which was acquired in January 2019 by Château Angélus, who have turned into a focal point for Aquitaine gastronomy and art de vivre.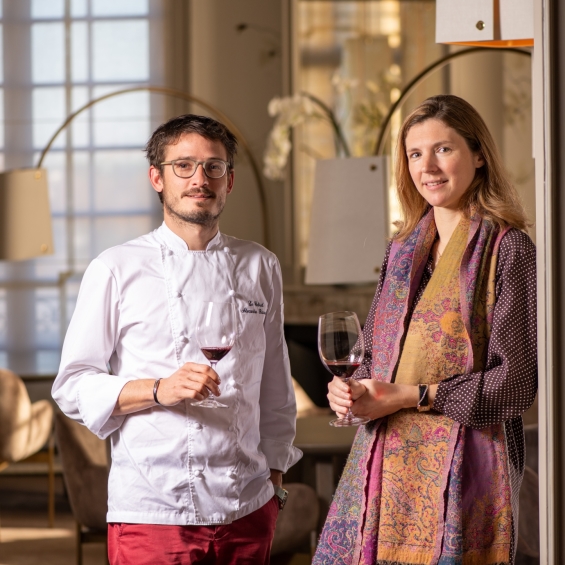 It was Alexandre Baumard, who was previously awarded a Michelin star in 2017 at Le Logis de la Cadène in Saint-Emilion, to whom Stéphanie de Boüard-Rivoal entrusted the management of the cuisine at Le Gabriel, which comprises a gastronomic restaurant, a bistro and a tea room.
This new star, awarded by the prestigious Michelin guide only a few months after this fine-dining restaurant's opening during the trickiest of times when the Covid-19 epidemic was at its peak, was fitting recognition and huge encouragement for Alexandre Baumard and the whole team at L'Observatoire.
At L'Observatoire, Alexandre Baumard continues to seek an inventive, refined cuisine in an approach that combines respect for tradition with creativity, and attention to detail with harmony. The fundamentals of his cooking are also showcased in the seasonal produce that he selects from top suppliers with characteristic precision and rigour. For the special seafood accent which he has given to the menu, Alexandre Baumard works with suppliers in the Atlantic coast fish markets, carefully respecting seasonality and sustainable fishing practices. For the menu's desserts, he is partnered by pastry-chef Damien Amilien.
For L'Observatoire, which can seat 35 diners, Stéphanie de Boüard-Rivoal has sought to preserve the original spirit of this emblematic 18th century building, with its high ceilings, bright and abundant natural light, Versailles parquet floors, mouldings, corniches and other elegant and harmonious architectural features of that century, while at the same time injecting, through the choice of lighting, colour tones and furniture pieces, a more contemporary elegance that brings softness and charm to the place. The private salon, which can seat 8 guests, has a view of the kitchen and offers the opportunity to savour the dishes prepared by Alexandre Baumard in an intimate setting.
"I'm pleased to see the talent and rigorous standards of Alexandre Baumard once again rewarded. This Michelin star marks a new phase in the remarkable journey that the Chef has enjoyed alongside us since 2014. It has also added momentum to our move towards diversification which we began undertaking in 2013 with the acquisition of Le Logis de la Cadène, while it also allows us to look forward to the future with optimism and complete confidence", stated Stéphanie de Boüard-Rivoal, the President of Château Angélus.