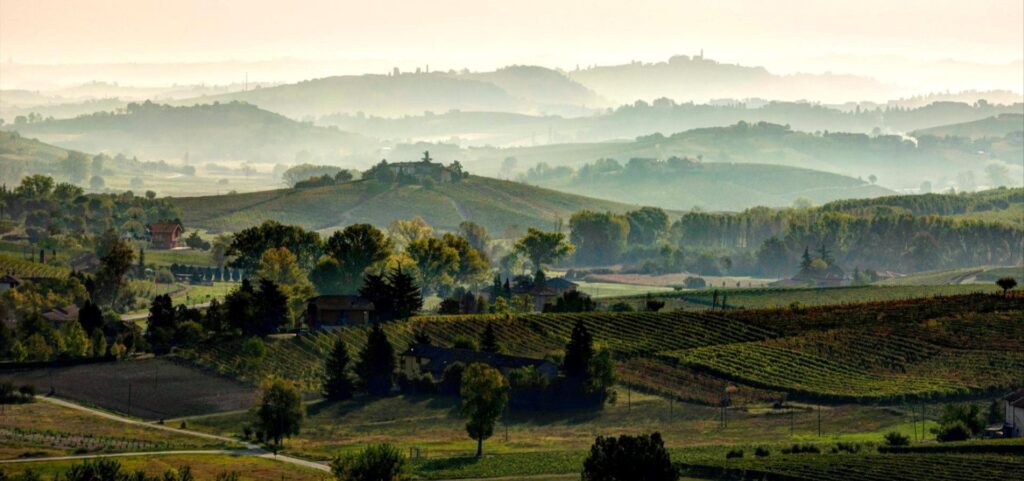 The Consorzio Barbera d'Asti e Vini del Monferrato presents the closing numbers for 2021. A year that despite the pandemic, registered a growth trend for the 13 protected appellations: 9 DOC (Albugnano; Cortese dell'Alto Monferrato; Dolcetto d'Asti; Freisa d'Asti; Grignolino d'Asti; Loazzolo; Malvasia di Castelnuovo Don Bosco; Monferrato, Piemonte) and 4 DOCG (Barbera d'Asti; Nizza; Ruchè di Castagnole Monferrato; Terre Alfieri).
Among the denominations that have seen significant increases is the Barbera d'Asti Superiore DOCG which stands out from the crowd with over 5 million bottles (+ 5.6%). "It refers to a Barbera that is aged for 14 months, 6 of which are in barrel, confirming a constant positive trend in recent years proving how quality is an essential component in the path to growth," states Filippo Mobrici, President of the Consorzio Barbera d'Asti e Vini del Monferrato.
The "Nizza" Phenomenon. Speaking of Barbera, the +13% achieved by the Nizza DOCG appellation performed extremely well together with the other producers coming from 18 municipalities in the south of Asti, committed to producing over 700,000 bottles (average price around 20 euro/bottle): "It is a fact that goes beyond our wildest expectations also because we have had an almost total blockage of supplies to hotels and restaurants for many months, obviously due to Covid" reveals Stefano Chiarlo, President of the Associazione dei Produttori del Nizza (Nizza Producer's Association), comprised of about 70 wineries of 90 in total.
Chiarlo (also Vice President of the Consorzio Barbera d'Asti e Vini del Monferrato together with Lorenzo Giordano) thanks the producers of the Association for the "extraordinary work done as well as the Consortium for the protection and support of promotion that is carried out on foreign markets. We export half of the bottles produced and are present in about 40 countries. For example, we have presence in the American market where Nizza is in high demand. There are also American and Northern European entrepreneurs who purchase vineyards from our area."
Ruchè makes history. Ruchè di Castagnole Monferrato DOCG broke the barrier of 1 million bottles. Starting from an almost "forgotten" grape variety until the 1980s to arrive as the star of an extraordinary great red that is now considered "trendy." "A special year has closed for us. The milestone of 1 million bottles is finally a reality. We are a group of about 30 producers as well as a few bottlers, and for us this is truly a special number," underlines Luca Ferraris, President of the Associazione Produttori del Ruchè di Castagnole Monferrato. Cultivated in 7 municipalities (Castagnole Monferrato, Grana, Scurzolengo, Viarigi, Montemagno, Refrancore, and Portacomaro, the town of Pope Francis), as Ferraris reiterates, "the potential of this wine is still to be discovered for us as well. In the premises of Turin, 6 out of 10 glasses of red wine are Ruchè." Customers actively request it. Our wine is also popular in Asia as well as the US, demonstrating the fact that it is now an internationally recognized wine" says Ferraris.
The "little" Albugnano. Produced in a very narrow strip of vineyards (composed of 4 municipalities: Albugnano, Pino d'Asti, Castelnuovo Don Bosco, and Passerano Marmorito) by a handful of about 20 producers in what is called the "Terra dei Santi", this Nebbiolo pays tribute to Piedmontese tradition. "Since 2017 when we created the Association of producers, we have since made a lot of progress" states Andrea Pirollo, President of the Association Albugnano 549, which has produced over 60,000 bottles (+18%). He also adds: "The strength of the team has allowed us to achieve goals that seemed impossible. We must try to grow while safeguarding this unique territory as well for its biodiversity. We are a stone's throw from Turin and this sort of enclave of ours with vineyards nestled between a territory of forest and pastures is really something unique."
Boom of reds, whites, and rosé. Other interesting elements stand out from the data. Like the +142% in the 1.5 million bottles achieved by the "Piemonte DOC Rosato" which is especially popular with the Chinese market, or the 2.4 million bottles of Piemonte DOC Rosso (+42%): 1 million bottles more than the previous 12 months for this product which combines different varieties (Barbera, Nebbiolo, Dolcetto, Freisa, and Croatina). How can we forget the elegant Piemonte DOC Viognier, which is now finding many new admirers for the Piedmontese market as well as others. With 142,000 bottles produced, Piemonte DOC Viognier recorded an incredible +190% compared with 2020. The performance of Monferrato DOC Nebbiolo is even more extraordinary: 200,000 bottles with an increase of 313%.
Other growth is recorded for export (primarily to North Europe, USA, Canada, China, and Asia). And more and more investors are attracted by the opportunities offered by this territory: 11,500 hectares (equal to one third of the Piemontese DOC winemaking area, distributed mainly between Asti and Alessandria, with offshoots also in the Cuneo and Turin areas) in which thousands of winemakers from hundreds of wineries (about 400 are members of the Consortium) work in contributing to a total production of 65 million bottles (20 million of this is Barbera d'Asti DOCG).
In economic terms; an estimated turnover of around 400 million euro, with a quarter of Piemontese exported wine protected by the Consorzio Barbera d'Asti e Vini del Monferrato.
These are some of the interesting statistics that have emerged from the 2021 production data surveyed by the Consorzio of Barbera d'Asti led by Filippo Mobrici, closing a year still affected by the pandemic. "It was obviously a difficult year, as for everyone, but the various indicators tell us that not only have we held our positions extremely well, but that our Consorzio is growing in numbers, and most importantly in quality – explains Mobrici -: this means that not only the professionalism pays off, but the ability that our producers have had to invest in their territory, making themselves ambassadors of these wonderful UNESCO protected lands. This is not about celebrating one wine over the other. Each of our DOC and DOCG's has unique qualities. We must insist on this path, in the wake of tradition, change, and extraordinary collective work. So much so that more and more entrepreneurs, also from abroad, are investing in our vineyards."