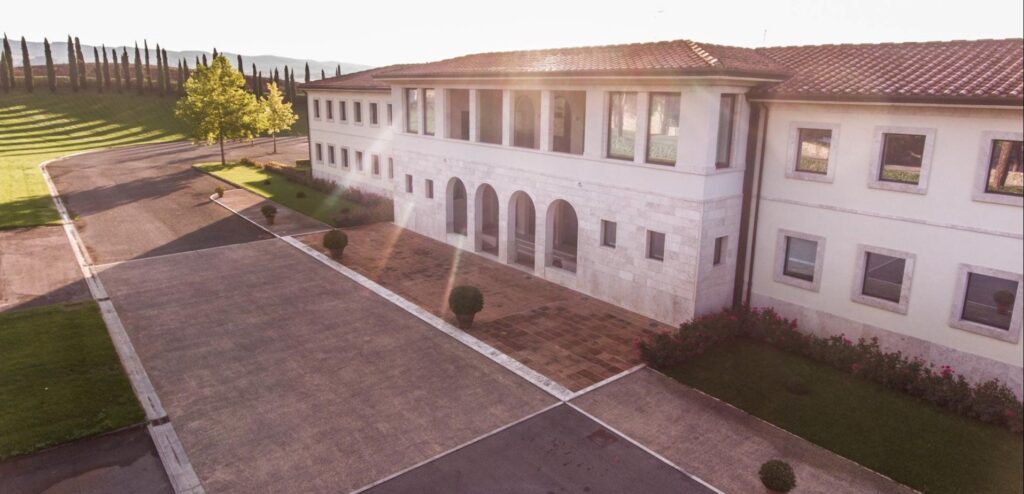 Devoted to Sangiovese since 1893
Since 1893 Cecchi has been a family winery that operates in the wine industry, dedicating steadfast commitment and passion to this industry. This legacy, passed down by founder Luigi Cecchi to the following generations, has now reached the fourth one, represented by Andrea Cecchi, the current leader of Cecchi and the Cecchi Family Estates.
Celebrating its 130th anniversary, the Cecchi Family is one of the most prestigious wine producers in Tuscany. The company is currently in the midst of its evolutionary journey: conducting experiments with Sangiovese clones, carrying out zoning operations, transitioning to organic practices, and conducting research in agronomy and technical fields to attain an increasingly sustainable and transparent approach to winemaking.
For 130 years, Cecchi has been a keeper of Sangiovese and its chosen territories, dedicating all its energy, attention, investments, studies, and projects to them.
The fourth generation of the company has felt the need to further deepen the knowledge and appreciation for their roots. They wanted to consolidate their path as winegrowers, keeping the five estates and the relative projects as a testimony and vital source of inspiration.
Today, Cecchi's values include the profound respect for the environment, for the people working in the supply chain, for tradition, and the indigenous varieties. The company embodies these elements as a sign of continuity with its territorial identity, growth, and success.
Innovation plays a central role, particularly with regard to sustainable practices and organic conversion, which have led the company to now boast two 100% organic estates: Val delle Rose and Tenuta Alzatura. The Chianti Classico Estates of Villa Cerna and Villa Rosa have the Agriqualità certification. Furthermore, both are undergoing a process of organic conversion, and have recently obtained the Equalitas certification, which integrates environmental, economic, and social sustainability.
"Today, Famiglia Cecchi is a significant player in the national wine industry, serving as an ambassador in over 65 countries worldwide, with an average production of over 9 million bottles," states Andrea Cecchi, owner of the company. "We are a growing company that closed 2022 with a total revenue of €41 million, distributed between Italy (56%) and the rest of the world (44%). A significant part of our evolution is undoubtedly represented by the wines from our estates, namely Villa Cerna, Villa Rosa, Val delle Rose, and Tenuta Alzatura. The acquisition of Villa Rosa, in particular, marked a milestone in our 130-year history. It symbolized our return to our roots. After years of dedication, study, and projects in other territories, driven by the excellent opportunity presented by the birth of Chianti Classico Gran Selezione, we have come back to our beloved Sangiovese in Castellina in Chianti, our home. We are even prouder than before to look after this land and to measure ourselves year after year with a new harvest."