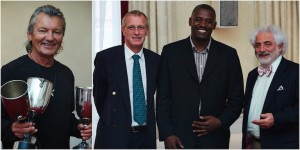 Rijk's performed incredibly well at the 2013 Old Mutual Trophy Wine Show.
Now in its 12th year, the competition is widely considered the country's most revered wine selection process and attracts more than 1 000 wines annually – all rigorously assessed 'blind' by a panel of highly regarded international and local palates.
1. The Harold Eedes Trophy* for Best Chenin Blanc
2. The Old Mutual Trophy for Best White Wine Overall
3. The Old Mutual International Judges' Trophy.
* Rijk's Cellar was the first ever winner of the Harold Eedes Trophy in 2010 for the Best Chenin Blanc, with our Chenin Blanc Touch of Oak 2009.

Previous trophies won at Old Mutual Trophy Wine Shows:
2004  – The Best Semillon Trophy with Rijk's Private Cellar Semillon 2002
2005  – Gold Medal for Rijk's Private Cellar Cabernet Sauvignon 2002
Left: Neville Dorrington, owner of Rijk's with three trophies
Right:  Frank Brooks and Robert Mafuna from Old Mutual with Chairman of the Judges, Michael Fridjhon.