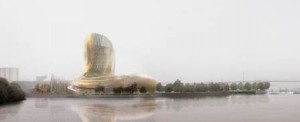 Official laying of the cornerstone
One of the major events during Vinexpo 2013 was the laying of the cornerstone for the future Center for Wine and Civilization.
On Wednesday 19 June, all the stakeholders in the project(1) (institutions, sponsors, partners, architects, scenographers, and builders) as well as the press and key figures from the international wine industry attended the official launch of the Center's construction.
The 700 people gathered at the Les Forges site applauded this symbolic gesture, which also included the unveiling of the first vines planted on the site, a future gateway to the capital of the Aquitaine region.
Scale model 
Prefiguring the audacious, astonishing building designed by the X-TU agency in Paris, a superb new scale model (1/100) was also unveiled.  This features a cross-section to show the exhibition route and observation deck, and reflects the full impact of this highly unusual building.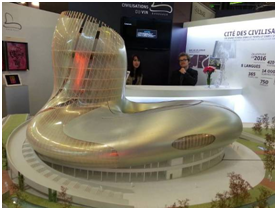 Construction will take two and a half years as follows:
•    work will start on 2 September 2013 with the driving of 280 concrete piles into the ground,
•    followed by the topping out of the building in  2015,
•    with completion in February 2016,
•    and inauguration in March 2016. Some 425,000 visitors a year are expected.