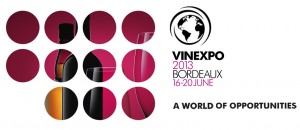 Vinexpo, the international wine and spirits exhibition, broke all records for the number of non-French visitors at its 17th show last month. Almost 38% of the professionals who visited the exhibition, travelled from all over the world to be there.
In five intense days, featuring very active exhibitors, top flight tastings and quality business contacts hailed by the attendees themselves, Vinexpo clearly demonstrated why it is the world's leading professional wine and spirits gathering.
Proof in the figures
48,858 visitors from 148 countries were counted going through Vinexpo's entrance gates in 2013, a slight 1.5% increase compared to 2011. While the number of French visitors remained stable between the two years, non-French visitors increased by 3%. In fact, a new record was set as the number of visitors arriving from outside France reached 18,462, representing a 37.8% share of the total.
Asia with its booming markets clearly demonstrated its interest in wine and spirits at Vinexpo 2013. China led with 3,388 professionals and became Vinexpo's largest non-French visitor, up 13.9% compared to 2011. Japan, where wine consumption continues to grow regularly, was very well represented this year with 427 visitors, up 17.63%. And beyond these two leaders, Vinexpo attracted more and more Asian visitors: India, up 32.7%, Taiwan, up 4.5%, Vietnam, up 20.4% and Malaysia, up 21.1%.
The U.S., the world's leading wine-consuming nation both in volume and value, was Vinexpo's second largest international visitor with 1,433 professionals. Canadian visitors were on the increase with 731 professionals, up 11.9% compared to 2011. Despite the established concentration of American and Canadian distribution networks, more than one foreign visitor out of ten came from North America.
The 4th, 5th and 6th largest visitor countries at Vinexpo 2013 were UK with 1,418, Belgium with 1,132 and Germany with 1,073 professionals respectively.
Amongst the nations, whose professional representation showed significant growth, Russia also featured with 9.8% more visitors than in 2011.
Europe's import destinations were very present. After UK, Belgium and Germany came the Netherlands and Switzerland with 827 and 552 professionals respectively followed by Finland, up 11.9%, Austria, up 55.7%, Denmark, up 32% and Norway, up 12.9%.
The major European producing nations, Spain and Italy, were also well represented by buyers, especially from hyper- and supermarket chains.
Visitors from France accounted for 62.2% of the total and represented all sectors of the industry: wholesalers, hyper- and supermarket buyers, restaurateurs, sommeliers and specialist retailers.
These statistics confirm our forecasts with regard to world markets. "Between 2012 and 2016, wine consumption will grow by 145 million 9-litre cases worldwide, an increase of 5.31%. Three markets in particular will drive this growth: the U.S. with an extra 40.5 million cases, China, up 70.5 million cases and Russia with a further 17.4 million cases," pointed out the Chief Executive of Vinexpo, Robert Beynat.
Exhibitors from 44 countries
Only Vinexpo displays such a wide variety of products and represents world production so comprehensively. 2,400 exhibitors from 44 countries and many more producing regions and appellations put their wines and spirits on show with stands that covered a total floor area of 40,000 sq. m (430,500 sq. ft).
In just a few steps, visitors could move from France to Chile and on to the US and Italy or from Germany to South Africa, from China to Japan or even from Georgia to Lebanon.
Success of "Tastings by Vinexpo"
The tastings and presentations branded "Tastings by Vinexpo" enjoyed lively support, being attended by 14,700 professionals, who sought introductions to new products, opportunities to improve their knowledge or hear the views of internationally acclaimed experts.
Impact on the media
1,290 journalists from 54 countries paced the Vinexpo aisles. The exhibition's Press Centre was a hive of activity and the impact in the international written press as well as the radio and television coverage, reflected the media buzz that was palpable throughout the show.
Announcement of substantial changes for Vinexpo in 2014
Vinexpo Overseas, whose success in Hong Kong is unanimously recognised, will extend its activities in Asia. This expansion will serve the needs of wine and spirits professionals in these high potential markets.
Vinexpo Asia-Pacific takes on a larger footprint
The international wine and spirits exhibition, which is a major event in Asia, will again be held in Hong Kong on 27, 28 and 29 May 2014.
The 8th Vinexpo Asia-Pacific will be larger than ever before. In order to respond to the substantial demand from exhibitors the overall floor area for stands will be increased by half to reach 15,000 sq. m (over 160,000 sq. ft).
Vinexpo Overseas will reach out from its firm base in Hong Kong to launch "Vinexpo in Beijing".
"Vinexpo in Beijing" is an extension of Vinexpo Asia-Pacific. It is an additional opportunity for exhibitors, where everything will be organised to make it feasible for them to set out and display their offerings before the trade professionals of north-east China.
It will be a new member of the Vinexpo family with nevertheless the recognisable traits of being a venue for international exhibitors and exclusively professional visitors. "Vinexpo in Beijing" will be a 2-day event held on Monday 2 and Tuesday 3 June 2014 and will accommodate 200 exhibitors with turn-key stands at the Beijing Exhibition Centre in the heart of the city, not far from the Forbidden City and Tiananmen Square. 3,000 to 4,000 professional visitors are to be targeted in the Beijing region and north-east China. "Vinexpo Nippon in Tokyo"
In the face of overwhelming demand from Japanese professionals, Vinexpo Overseas has decided to respond to the requests of Japanese importers and organise a totally unique event in Tokyo. It will take place on 1 and 2 November 2014 at the Prince Park Tower Tokyo in the Japanese capital's city centre.
This "Business to Business" exhibition will address the full range of Japanese distribution channels, with a special focus on the On-trade (cafés, hotels, bars and restaurants). The main Japanese importers will be especially involved in the show and will be able to share stands with loyal Vinexpo customers. A total of 400 stand spaces will be on offer and 4,000 visitors are expected to attend.