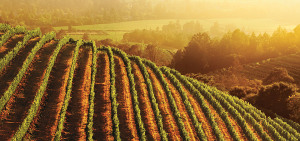 Despite one of the driest winters on record, winegrape crops came in strong, thanks to some spring rains and moderate weather all through the growing season. Harvest began a bit earlier than usual in most regions, and overall, the quality of the 2014 harvest was very high. While California's winegrape production this year is forecast at 3.9 million tons, down 8 percent from 2013's record high crop, the 2014 harvest is the third largest on record, with outstanding quality. Meanwhile, our Wine Institute representatives and California vintners have been hard at work putting on events at home and around the world.
From grape to glass
o   Quake:  It takes more than a good shake to keep Napa vintners down. The August 24 South Napa earthquake caused some $80 million in damage, but the region's grape growers and winemakers are pressing on. Within two weeks of the quake, 99% of Napa wineries had returned to their core business of harvesting grapes, and producing and selling wine. The winemaking community rallied around the cause: The Napa Valley Vintners association donated $10 million to the recovery efforts.
o   Green: Wine Institute was recognized with the Amorim Sustainability Award by The Drinks Business, an industry trade publication based in Europe. According to the publication, its judges acknowledged that California's approach to sustainable practices and the adoption of nature-friendly philosophies make it stand out from the crowd. California Wines is working to create a sustainable winegrowing on-line ambassador certificate course for members, wine professionals and other global partners, coming in November 2014. And to support their groundbreaking commitment to become the first 100% sustainable wine region in the U.S. within 5 years, Sonoma County Winegrowers have launched an advertising campaign on sustainability, aiming to educate consumers on the eco-friendly benefits of purchasing sustainably produced wine
o   Press: Our San Francisco home office has been busy hosting international trade and media guests, bringing groups to California from Continental Europe, Japan, the UK, Colombia, Mexico and South Korea to showcase what's new in California Wines. We are looking forward to hosting groups from Japan, Germany and China this fall as well. Members of the trade from Japan seemed to have enjoyed their recent visit, as is evidenced by this video from one of the attendees.
Around the globe
o   Global. California Wines is proud to announce the rollout of its translated and localized site at www.DiscoverCaliforniaWines.com. We have developed a single, central, global site encompassing the U.S., Japan, South Korea, Hong Kong, Taiwan, Mexico, Germany and Québec, fully translated accordingly. These new sites will allow trade, media and consumers from around the world access to all the information and services provided by California Wines, as well as the ability to receive to email newsletters from representatives around the world. The sites offer information on California's wine regions with maps of the state's American Viticultural Areas (AVA's), a winery finder and calendar of events both in the state and around the world, details about the unique climate and geography, popular varietal wines, wine and food pairings, seasonal recipes, sustainable winegrowing trends and more, all set against a colorful backdrop of California's breathtaking landscapes. Our global social media campaign continues in 16 countries, and has nearly 25,000 Facebook followers, in addition to 50,000+ followers of our Weibo and WeChat initiatives in China.
o   Global. Our new Discover California Wines educational PowerPoint tool is available for download from the www.DiscoverCaliforniaWines.com website and features content on California wine history, climate, soil, geography, regions, varietals, sustainability and wine & food pairing.
o   Global. California wine exports continued to grow during the first half of 2014, up 11% by value and 15% by volume. If the current growth trends continue, California wine exports are currently on track to set a record in dollar value for the fifth consecutive year.
o   Continental Europe. Our California Wines 2015 European Spring Tour will wind its way through London (March 9th), Zurich (March 10th), Holland (March 12th), Stockholm (March 13th), Prowein Dusseldorf (March 15-17th) and Prague (March 18th).