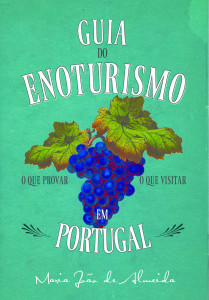 The Zest-for life books editor launched last year, the first Guide to Wine Tourism in Portugal by the wine critic and journalist Maria João de Almeida. Once tourism is one of the most important activities in Portugal, and the cluster connected to wine culture and wine tourism is largely responsible for the growth of tourism in our country, Zest decided to invite Maria João de Almeida to publish a guidein printed form, in several languages​​-initially in Portuguese and English, and by the Summer of 2015, French and Spanish with very high perceived value in terms of design and material.
"This is the most extensive, thorough and updated guide to wine tourism in Portugal, where we can find what to visit, where to sleep and where to eat in each region. Being a printed guide with a high quality design, extensively illustrated and special hardcover edition,makes this book unique. We are very pleased with the result", says Nuno Seabra Lopes, one of the owners and responsible editorial Zest- books for life
"When I was invited to create this book, I didn't think twice, because I also felt that the public demanded a project like this. There are already some online guides, but not in printed format and not with this quality", Maria João de Almeida said, referring again:" This is not a selection of all wineries, but only those that I considered to be the best we have in the country. This is a purely editorial decision, based on the places that I've visit throughout my career and also new ones that I investigated and got to know recently. All wineries that are in the book were visited by me", concludes the author.
The guide is divided by regions with the story of each winery, the wine tourism activities available and the author's wine taste suggestions. Also, at the end of each chapter, there are several recommended places to stay overnight or have a meal (that respect the wine) to make it even more comprehensive guide.
The first edition of "Guide to Wine Tourism in Portugal" has a first printing in Portuguese and English, already with guaranteed distribution at major booksellers selling points, airports and all major souvenir shops, and rely on a network of export destinations such as the UK, France, Spain, Italy and Brazil, among others. The book will be 140 x 210 format with about 350 pages heavily illustrated, with a clear focus on retro-vintage design and luxury finishes, presented a maximum price of 18 euros.