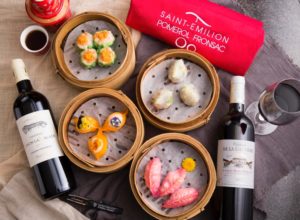 A few days before holding its traditional gala dinner on the eve of Vinexpo Hong Kong, the Saint-Emilion Jurade will take off for China. On Saturday 26th May, the Chancellery of the Jurade in Beijing will host 300 guests in the "Bird's Nest" Olympic stadium for a truly memorable evening! After a grand press conference, the delegation of Jurats attending will perform an induction ceremony for around twenty celebrities, including Mr. Jean-Baptiste Main de Boissière, who has been Minister-Counsellor at the French Embassy in China since November 2015. Then the guests will be able to enjoy cocktails and a dinner with eight Saint- Emilion wines, before taking part in an amazing after-party.
On Monday 28th May, the Saint-Emilion Jurade will launch the Vinexpo Hong Kong festivities in the Grand Hyatt grounds with 600 guests. More than 40 celebrities will be inducted during the evening, including both directors of the two new Jurade Chancelleries, which will be set up by the end of the year in Singapore and Kuala Lumpur. The Saint-Emilion Jurade continues to develop its operations worldwide, by opening these Chancelleries, which will work to develop the reputation of Saint-Emilion wines in Asia.
Saint-Emilion wines will also be honoured inside the exhibition with events organised collectively by the Union of Saint-Emilion – Pomerol – Fronsac Winegrowers.
On Tuesday 29th May, they will be tasted by seven journalists, who will awaken their taste buds at a Press lunch that will focus on matching food and wines. With their rich aromatic palette and their diversity of terroirs, Saint-Emilion wines are great matches for Chinese food.
On Thursday 31st May, a master class for 80 wine professionals will highlight the parallels between Saint-Emilion wines and Pu'Erh teas. Since the twinning in 2012 of these two centuries-old beverages, robust connections have been forged between Saint-Emilion in south- west France not far from Bordeaux and Pu-Er in south-west China in Yunnan. In December 2016, the Chinese National Pu'Erh Tea
Museum housed a special exhibition around Saint-Emilion – Pomerol – Fronsac wines. Eighteen months after its inauguration, the exhibition has welcomed almost 150,000 visitors! At the master class, three winegrowers will introduce a selection of six wines from the 2014 vintage, followed by two Pu'Erh teas.
While Vinexpo Hong Kong celebrates its 20th anniversary this year, next year Saint-Emilion will celebrate the twentieth anniversary of its listing as a World Heritage site. 2019 will be an extraordinary year with celebrations and events organised throughout the year!